Matt Stanton, Milo Finds $105, ABC Books, March 2022, 224 pp., RRP $14.99 (pbk), ISBN 9780733342035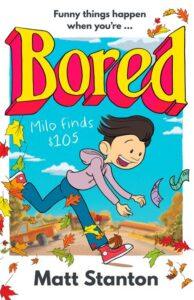 From the author of Funny Kid and The Odds comes a sweet, funny new series about a very likeable character called Milo, who lives with his mum and her partner Liz in Turtle Place, where nothing ever happens. Until the day Milo is so bored, he follows an ant, which leads him to find $105 and his new neighbour, Frog, who is practicing an unusual form of martial arts in his front yard. Milo wonders what to do with the money, when he decides to find out who owns it. Soon, the other kids in his street get involved, even the ones who scare him. They have all sorts of wild theories about how the money got there, including suspicions of organised crime.
What is on the surface a funny tale of a group of disparate kids, becomes a touching story about finding friends, accepting people for who they are, standing up for yourself and being brave enough to talk to your not-so-secret crush. The chapters are short, the characters well-drawn and the resolution satisfying.
Highly recommended for new readers to novels, or those who like a well-told story with mystery and heart.
Reviewed by Deborah Abela