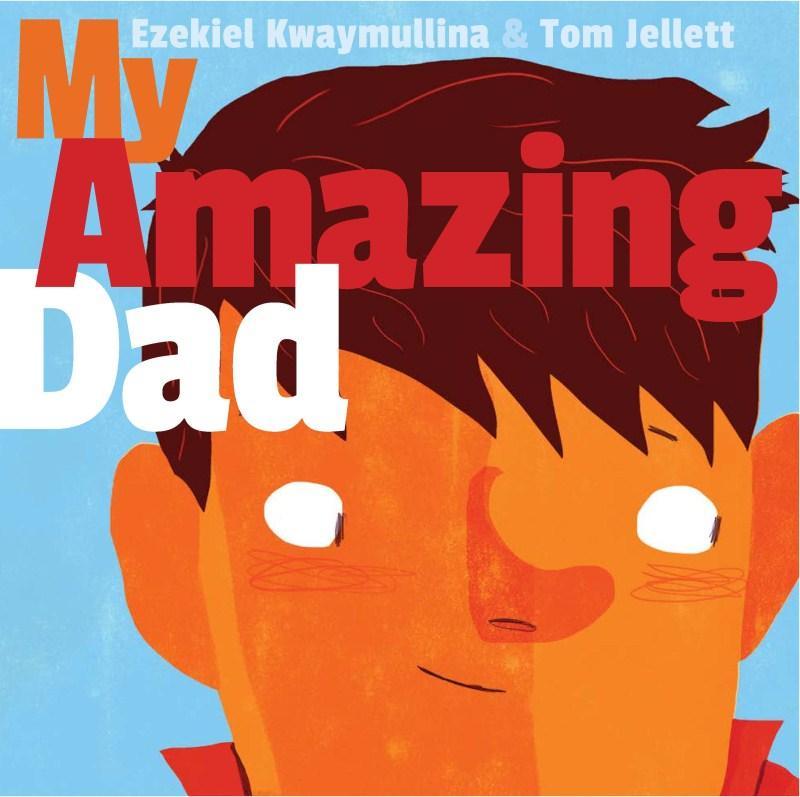 Ezekiel Kwaymullina (text) Tom Jellett (illus) My Amazing Dad,  Little Hare,  1 August 2015,  unpaged,  $24.95 (hbk),  ISBN 9781921894862
The dad's face is on the front cover and the back of his head is on the back cover, reflecting the two sides of his personality. Told from the daughter's point of view, we explore the fun of spending time with dad. For this dad is not good at some of the conventional things like mowing the lawn, getting his daughter to school on time, baking a cake and so on but his attempts to do these things turn into something special. He mows a maze, eventually gets her to school and buys cakes from a bakery. On the last page we see mum arriving (possibly from work) and can appreciate that he might be a stay at home dad.
The illustrations are big and in bold primary colours with lovely family details such as the two children's toys (a frog and a crocodile) included in most pages. Some pages show different perspectives of the action and each illustration is a double page with the text carefully placed and appropriately bolded to add emphasis for reading aloud. This is an excellent book for three year olds and over who will enjoy the humour of each situation.
Reviewed by Julie Long