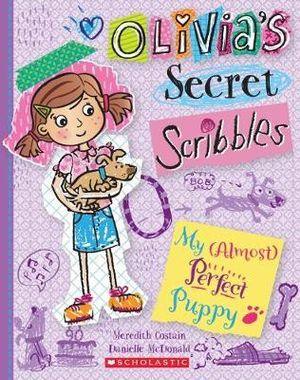 Meredith Costain (text),  Danielle McDonald (illus.), My (Almost) Perfect Puppy (Olivia's Secret Scribbles #2), Scholastic Australia, May 2018, 96pp, $9.99 (pbk) ISBN: 9781760277079
My (Almost) Perfect Puppy is Meredith Costain's second installment in this new Australian series for young girls (6+) and follows the adventures of Olivia, the younger sister of Ella from Costain's bestselling Ella Diaries series.
I have lots of super-amazing and important things to write about! And I'll tell you all about them:

My Dog, Bob, is friendly and cuddly. He is a PERFECT puppy (almost). Sometimes he gets into mischief.
Olivia loves to invent things, hang out with her best friend Matilda and play with her family's newest member: Bob the dog. But as Olivia is quick to find out, life with an exuberant new pup is far from simple. Luckily, young Olivia is a natural born problem solver and with the help of her special, new planning book she is able to find or invent all the solutions she needs.
Danielle McDonald's fun, purple illustrations are the perfect accompaniment to Olivia's diary entries and the Energy-Using-Up-ideas she devises to help calm down her bouncy new puppy. The distinctive two-tone illustrations give the pages a beautifully expressive energy, and that unmistakable cuteness factor.
It's when Olivia decides to take Bob along to her Great Nanna Peggy's nursing home, that the excitement really begins. The residents love seeing the girls and snuggling Bob but with mishaps and mischief galore, Bob's cute puppy antics threaten to put an end to his regular visits.
With so many entertaining moments, including my personal favorite: little Olivia giving Nanna Peggy her mouldy cheese experiment as a ninetieth birthday gift, a touching message still hits home. As Bob saves the day, and indeed the life of one of his elderly charges, the value of fostering good relationships between young and old, animal and human reveals itself. Despite the unforeseen hurdles and teething issues involved when organising dog visits to the Golden Garden nursing home, tenacious young Olivia doesn't give up, and in the end demonstrates the fun, comfort and safety that can be found when new friendships are forged.
The Diary format is always popular with budding readers and this title's large, simple font combined with the gorgeous purple illustrations, diagrams and notations are sure to engage and entertain young readers, especially those looking to read their first chapter book.
In addition to her sweetly comic adventures, Olivia herself provides a wonderful new role-model for younger children who admire compassionate heroics and a naturally inventive spirit.
Reviewed by Lisa Hoad