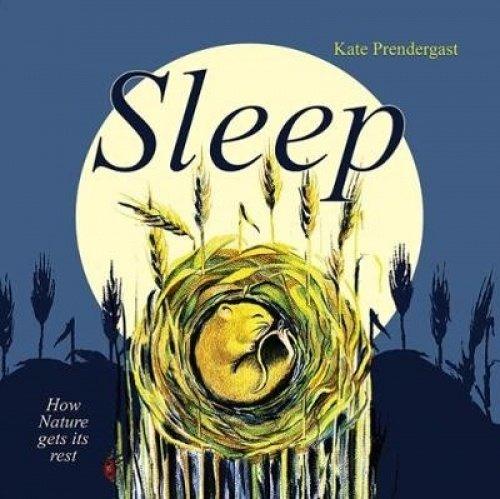 Kate Prendergast, Sleep, Old Barn Books/Walker Books Australia, 1 July 2018, 32pp., $24.99 (hbk),  ISBN: 9781910646229
Sleep, written and beautifully illustrated by Kate Prendergast, is a gorgeous and simple story about the sleeping habits of animals. The animals range from domesticated to farming animals and rarer, exotic animals which the author, a passionate conservationist, uses as a tool to teach the reader about caring for our animal world. It is a flexible resource which can be adapted and scaffolded as required for the age group.
We learn about where animals sleep in both natural and domesticated habitats, as well as their particular habits and quirks. The story itself is written in sparse form, making it suitable for the youngest of readers in early childhood settings. The clear and colourful illustrations will please children of all ages, with snails sleeping on a tortoise shell and an upside-down sloth.
As a resource to expand on, it is at the end of the book that Prendergast leaves us with a list of animal facts. This gives older readers the chance to learn more about the animals and provoke discussion and research. The author also lists websites where you can find out more about animal habits, as well as animal conservation. This provides independent researchers the chance to find out more. A wonderful book to provoke inquiry and discussion on animals and the impact of changes to their environment, for very young to early primary learners.
Reviewed by Belinda Raposo