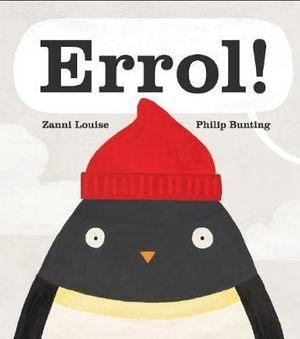 Zanni Louise (text), Philip Bunting (illus.), Errol!, Scholastic Australia, June 2018, 32pp., $16.99 (hbk) ISBN: 9781742766300
Errol! is the collaborative result of CBCA Notable children's book author, Zanni Louise and Kate-Greenaway Medal-nominated illustrator Philip Bunting.
Aimed at pre-school children (3+) this glorious picture book tells the story of one stubborn penguin and his exasperated mother.
Errol, come this very minute.

Errol, I'm going to count to three.

One… Two… Three…

Right, that's it. I'm leaving.
Every parent, guardian or carer will have reached this familiar impasse: when a tiny human really digs in their heels, plonks themselves down and refuses to move. This is the hilariously relatable tale of what happens next.
After refusing to follow his mum, a wonderfully independent adventure unfolds for this cheeky, little penguin. Told in very few words, the direct speech between Errol and his mum is as sparse as the book's beautifully painted Antarctic backdrop, opening up the possibility for much dialogic reading.
Philip Bunting's bold, expressive artwork brings Errol's imaginative explorations to life, as the little penguin sinks beneath the ice and swims, skates and dances his way across the great white continent, meeting all manner of creatures along the way.  When Errol finally resurfaces, still covered in tell-tale ice-cream sprinkles, he has become the impatient one, much to the relief of his forlorn, anxious mother.
This is a gorgeous book to share with young children. The humorous double page spread depicting Errol's independent antics will provide endless inspiration for emergent writers and early readers making their own storytelling attempts.
Every emotion is painted to perfection on the faces of this dynamic title's instantly lovable characters, making this picture book a fantastic celebration of patience, stubbornness, love and the unique relationship between parent and child.
Reviewed by Lisa Hoad