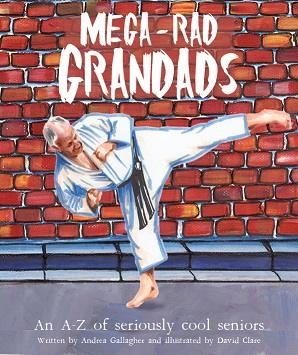 Andrea Gallagher (text),  David Clare (illus.),  Mega-Rad Grandads: An A-Z of seriously cool seniors,  Little Steps Publishing,  March 2017,  32pp.,  $16.95 (pbk),  ISBN: 9781925117790
Mega-Rad Grandads: an A-Z of seriously cool seniors is a modern day collection of the most interesting grandfathers you've ever met. Based on the real lives of grandpas, oupas and pops, this rhyming picture book offers children 26 positive examples of senior citizens.

Meet Chris, the barista who sets up shop by the beach. And Max who runs an egg and honey stall at the market. Or Quentin who's a whiz at quizzes. Other grandpas practice karate or sing acappella. With plenty of detail for both kids and adults to relate to, Mega-Rad Grandads highlights all the things that we love — and some things we never knew — about grandfathers. The last two pages include actual photos of the granddads that inspired each section. 
Mega-Rad Grandads
 is a follow-up to
Superstar Grandmas
by Andrea Gallagher. Both books were illustrated by David Clare whose bold, bright images make the stars of the book pop right off the page.
In simple, rhyming text, this picture book is well-suited to 3 – 6 year olds and will bring a smile to the adult reading it too.
It would be a wonderful tool for preschools and kindergarten classes to support lessons on genealogy or in preparation for Grandparent's Day.
Reviewed by Stephanie Ward