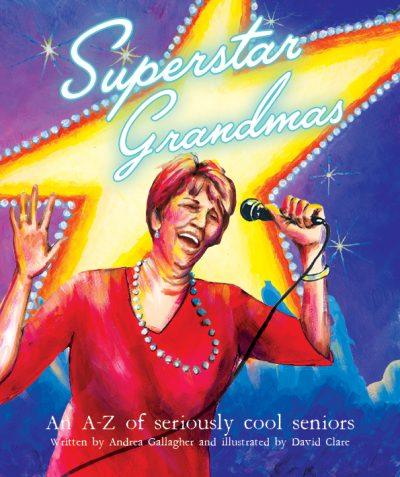 Andrea Gallagher (text), David Clare (illus.) Superstar Grandmas: an A-Z of seriously cool seniors, Little Steps Publishing, Dec 2016, 32pp., $16.95 (pbk) ISBN 9781925117806
With Australia's aging population a text that builds a bridge between the younger and older generations is a welcome addition to the world of children's literature. Superstar Grandmas fulfils this role as an alphabet picture book that brings to life the interests, skills and lives of older Australians. The diversity of activities from knitting, to boot-scooting, to volunteer work, reveal the senior years to be a time of fun and enjoyment. Their energy and enthusiasm for life breaks the sentimental and clichéd image often found in children's books of grandmothers as being slightly dotty, kitchen dwellers or little old ladies with their grey hair in a bun.
Superstar Grandmas is based on real characters and uses the faces of these people for the artwork. Photographs of the actual women are found at the end of the book giving the text a veracity and personal connection with the characters depicted. David Clare's vibrant paintings are brightly coloured and full of warmth and charm.
The written text is in a clear font and the alphabet letters are large and bold making them easy for the young reader to identify. Using simple rhyme in four line verse makes the book ideal for reading aloud and sharing with children in the kindergarten to lower primary age range.
Accompanying colouring-in templates can be found on the author's website.
A companion book to Superstar Grandmas is Mega-Rad Grandads by the same writer and illustrator.
Reviewed by John Nolan