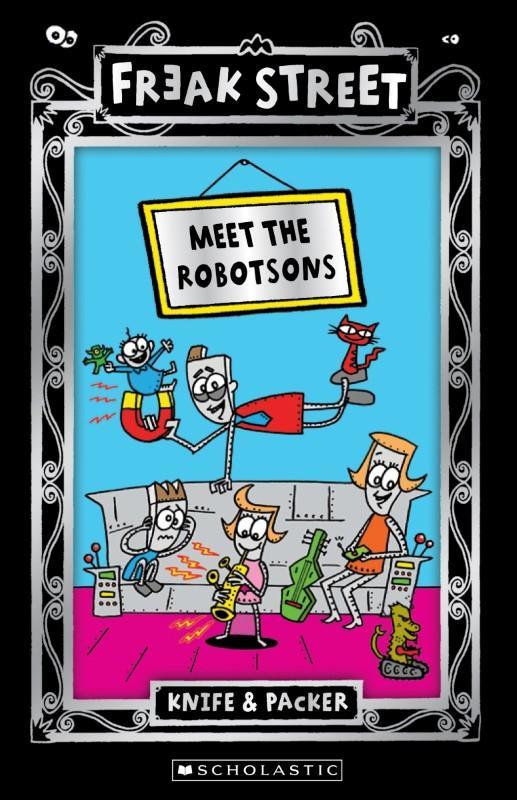 Knife & Packer (author, illus),  Meet the Robotsons (Freak Street),  Scholastic Australia, 1 June 2015, 96pp., $12.99 (pbk), ISBN 9781760150075
In this quirky neighbourhood on 'Freak Street' an assortment of families reside, including the Supersons, the Humansons, the Wizardsons, the Aliensons, the Zombiesons, and, of course, the Robotsons, just to name a few.
In mostly uncomplicated language, with regular references to gadget-focused puns, we are amused by the odd and entertaining antics of this family. Mr Robotson has a strong desire to re-fuel his robotic stunt hero acting ways, whilst Mrs Robotson takes her job as Maintenance Manager at the bank very seriously. Their son, Roy keenly pursues animatronic robot creation, and sister Royleen obsesses over shocking music and the dreamy robot band, the 'New Bots on the Block'. But whilst their interests appear seemingly unrelated, they all 'band' together congruously in the end to save the bank from a devastating attempted robbery by the evil, Nathan Villane.
The sixteen short, animated chapters build upon one another, with the finale nicely rounding off as the elements come to fruition. Middle-primary school readers, even the most reluctant ones, will relish the dry humour, vibrant illustrations and the touch of mystery that will keep them reading until the end.
Despite the family's heavy metal, clunky and untuned characteristics, Meet the Robotsons is light-hearted, fun and easy to follow, with obvious themes of team work, following one's dreams and standing up for what's right.  This series of books is supported by a website with downloads and activities for fans.
Reviewed by Romi Sharp