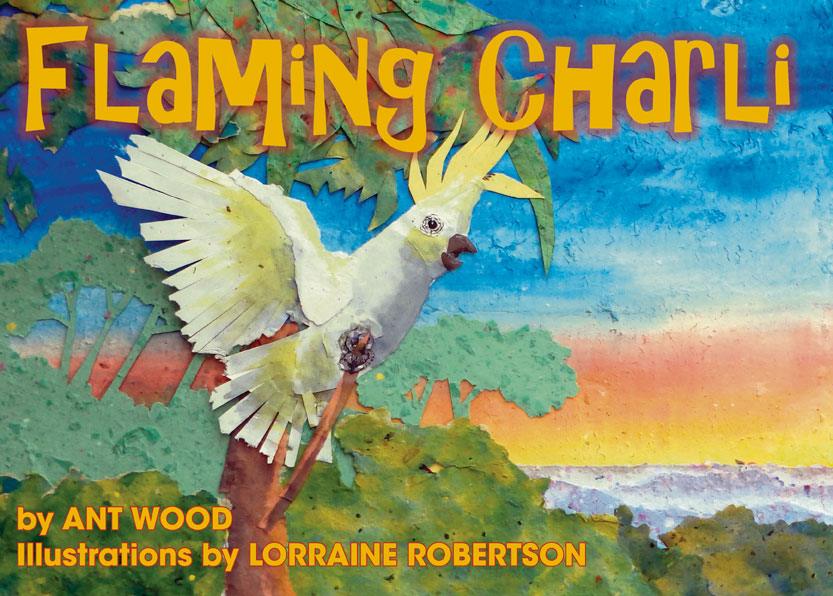 Ant Wood (text), Lorraine Robertson (illus), Flaming Charli,  Envirobook,  January 2014, 32pp.,  $16.99 (pbk),  ISBN 9780858812482
This story tells of an overly raucous, squawking Sulphur-crested cockatoo named Charli. Her favourite trick is the 'curly wurly Raaaarrrkkk!', but this puts off the neighbouring inhabitants in the Australian bush. Although warned by Mum to keep quiet, it is Charli's loud screech that alerts the creatures to a fast-approaching, thunderous bushfire and allows them to successfully reach safety.
Perhaps a more unique trick would have individualised Charli in this typically gregarious group of birds. The story ended happily for the creatures but leaves us wondering the fate of the bush and other animals as the fire continues to burn. The rhyming text is pleasant but at times doesn't have a consistent rhythmic flow. However, the illustrations are quite effective with their three-dimensional elements of torn paper and watercolour techniques, and vivid, earthy colours representing the flora and fauna seen in the Australian bush.
An endearing, lively character predominates the pages of Flaming Charli in a story that certainly creates awareness and evokes compassion for victims facing very real natural disasters across our dry land. It is a beneficial book for exploring environmental studies (bushfires, recycling) and visual arts (collage) for early primary school aged children.
Reviewed by Romi Sharp