H M Waugh, Mars Awakens, Allen and Unwin, May 2022, 288 pp., RRP $16.99 (pbk), ISBN 9781760526979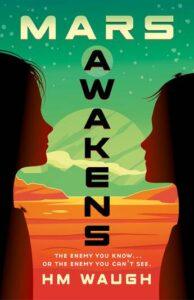 Mars Awakens by H M Waugh is an enthralling speculative science-fiction aimed at readers aged 10 and above. Dee and Holt are two teens marooned on Mars, supposed enemies, flung together in the wildest of environments. They learn reliance in dire circumstances, show ingenuity while unravelling mysteries, and discover the truth of their harsh existence in the extreme Martian climate.
What is refreshing in Mars Awakens is that this is not just a story of two teens, set on Mars. It's compelling, imaginative storytelling, about a scientifically fascinating planet in our solar system. Waugh's credentials as an environmental science and educator shine in her depiction of Mars. The landscape, atmosphere, climate and descriptions of travel and gardening on Mars is speculative science that builds a viable distant world that feels authentic and possible. This is a conceivable future, where children grow up on Mars. Future duties and responsibilities have changed, but they still navigate the frailties and fears of the adults that continue to influence their lives on this vast planet. There are lots of questions and dilemmas in the entire situation for deep discussion. The publisher's site has teaching tips.
Life on Mars as imagined in Mars Awakens, has everything good science-fiction should make us feel – angst, wonder, existential loneliness, fear of the unknown, paradigm shifts, intrepid adventure, frailty, conflict, and companionship. Themes to explore include sustainability, human relations, and future technology. Mars Awakens is Book 1 of the Mars Duology and is fantastic for science-fiction lovers of any age.
Reviewed by Angela Brown