Marissa Meyer, Gilded, Text Publishing, November 2021, 512 pp., RRP $22.99 (pbk), ISBN 9781922458292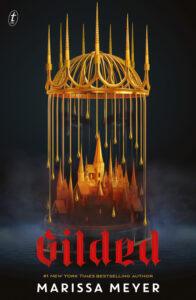 Gilded is the latest novel from the New York Times bestselling YA author Marissa Meyer. Meyer has built her reputation on crafting fantasy tales aimed at a YA audience with their origins in traditional fairy tales. Meyer's first book Cinder (based on Cinderella) was released in 2012 as the first book in The Lunar Chronicles. It was followed by three other books, each based on a traditional fairy tale: Scarlett (based on Little Red Riding Hood), Cress (based on the story of Rapunzel) and Winter (based on the story of Snow White).
Her latest novel, Gilded, is a 500-page epic based on the fairy tale of Rumplestiltskin.
Rumplestiltskin, is a Brothers Grimm tale about an imp who spins straw into gold in return for the promise of the miller's daughter's first born. In Gilded, Serilda, the heroine and the miller's daughter, is a compulsive liar, whose lies have given her a terrible reputation in the small village where she lives with her father. After telling a lie that she can spin straw into gold, she ends up trapped in the Erlking's castle where she is saved by Gild, a young man who appears magically in her cell, spins the straw into gold for her, and later in the novel develops as a romantic interest.
The original tale of Rumplestiltskin is a fairly straightforward fairy tale without much complexity, and despite the 500-page length of Gilded, Meyer does little to add real depth to the story. The romantic interest feels forced and two-dimensional – the character of Gild feels like the writer's conceit he is (as the replacement character for the Imp).
Despite having potential to build real interest and intrigue in the story by deepening the backstory of the Erlking and the history of local people (including Serilda's mother) who are rumoured to have been taken by him and trapped in his castle, Meyer isn't wholly successful in this pursuit and the tale retains the superficiality of a fairy tale where we skim the surface without really being given any depth or understanding of the characters. Meyers' language is at time flowery and overblown – I've certainly never read about a character whose 'stomach warbled' when she was hungry before.
Fans of fairy tale-inspired fiction will still enjoy Gilded – but be warned – this is a tale that finishes with a 'To be continued' which feels less than satisfying after 500 pages. For other readers who don't thrive on fairy tale based fiction, I'd suggest you pass on Gilded as there are lots of other great YA fiction titles that make for much better reading.
Reviewed by Caroline Arnoul