Stuart Wilson, How to Make a Monster (Prometheus High, #1), Penguin Random House, March 2022, 288 pp., RRP $16.99 (pbk), ISBN 9781761042256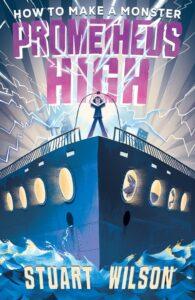 A rusting ocean liner. Thirty students learning to resurrect the dead. A murderous monster on the loose. Just a typical day at Prometheus High. Athena Strange's first semester starts with a bang. But when her lessons in reanimation, robotics and skulkers move too slowly and she has trouble making friends, Athena decides to take matters into her own hands. On a ship where science and magic collide, and the monster under your bed is probably very real… will Athena be able to keep her head above water?
How to Make a Monster is the first instalment in Stuart Wilson's new middle-grade series Prometheus High, a marvellous genre mashup that's a whole lot of fun and very entertaining to read. If you can imagine Tim Burton teaming up with the writers of the Bioshock game series to work on a kids book about a school for budding young Frankensteins set aboard a dilapidated and rather creepy old cruise ship, then you're imagining something pretty close to Prometheus High.
The story centres around young Athena Strange, a girl whose curiosity knows no bounds and who is determined to unlock the mysteries of the universe. She's creative, energetic, and fiercely intelligent. As a protagonist we warm to her immediately, sharing her need to push boundaries and to see what she's really capable of. It's fitting that the name of the ship that houses the titular school is the "S S Unbound" – in addition to the mythological reference, who hasn't dreamed of what we might accomplish if we were free to follow our dreams?
The concept of the story is fresh and original and breathes new life (see what I did there) into the "new kid at school" genre. The universe of the book is one where all the crazy ideas for "experiments" we had as kids actually work and growing up to be a mad scientist is a viable career option.
The book has something of a macabre quality to it at times, but therein I think lies some of its fun and fascination. Wilson's writing style is witty, richly descriptive, evocative, and atmospheric. He has brought together a wonderful and diverse cast of characters for his first book, and I for one am very much looking forward to the next one!
Reviewed by Christian Price