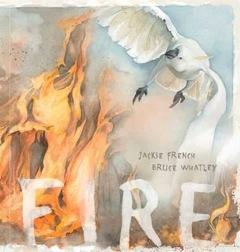 FRENCH, Jackie (text) Bruce Whatley (illus.) Fire Scholastic, 2014 unpaged $24.99 ISBN 9781742838175 SCIS 1641830
There have been many novels for children bringing to them the terrifying experience of bushfires.  There have not been so many picture books, but here the cover illustration of flames reaching upward in an attempt to devour a terrified white cockatoo provides a vivid experience for the reader.  Inside, the first picture is a gentle one in muted colour of the cockatoo perched peacefully on the branch of a gum tree, albeit the text points us to 'Hills bleached gold, a baked blue sky' and leaves 'limp in air sucked dry'.  But this is Whatley's book: for over the page the flames are now denser and more ferocious than those on the cover; and the cockatoo is both flying and fleeing.
French's seemingly hand-scripted text strains to be poetic.  As the fire gains intensity Whatley's orange and tawny reds deepen eerily as the fire encroaches close to the firefighters.  That image is made more heart wrenching in that it is followed by the picture of a bereft family hugging one another for comfort.  The 'earth that is too dry to cry' is, over the page, given hope as a fire-fighter gives succour by means of a bottle of water offered to a thirsty creature.  Rightly, too, the reader is left with the reassurance that 'time itself defeats the pain/As dry air thickens into rain.'
Jackie French notes at the end of the book that she writes from personal experience of bushfire; but Bruce Whatley, although admitting that fire is his 'worst nightmare' says that he has never experienced a major fire.  But what he does do, and adult readers will thank him for it, is to comment on his illustrative style.  He modestly provides the reader with clues that allow us to go back and detect where he flicks paint over the illustrations to intimate how fire 'spews ash and debris'.  Those flicks also help 'hold the visual elements together' he says.  Thank you Bruce for providing us with enriching insights.
reviewed by Maurice Saxby