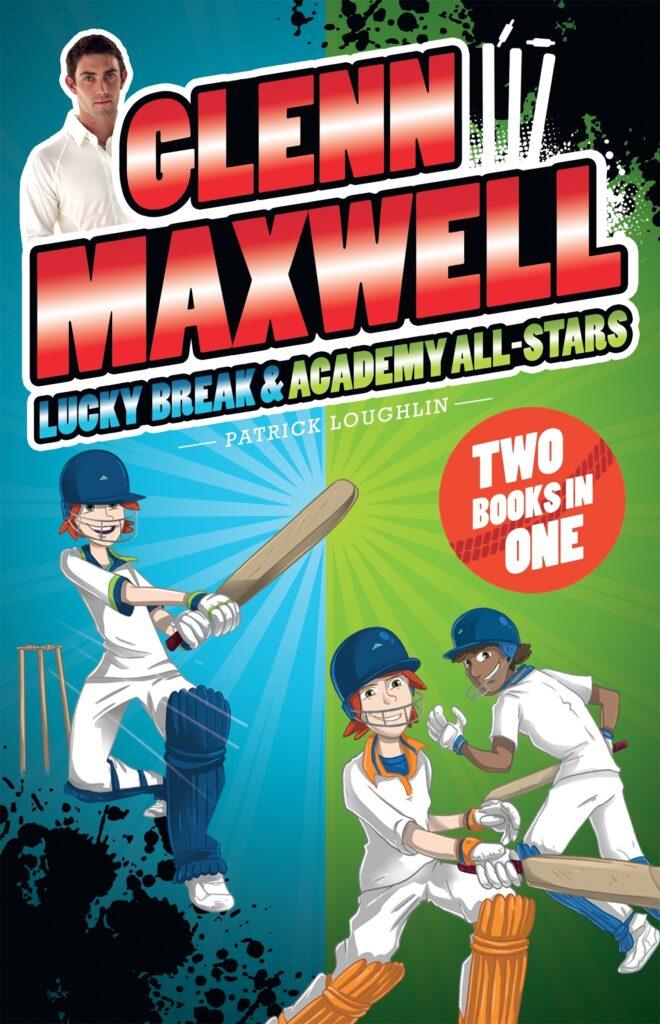 Patrick Loughlin (text), James Hart (illus.), Lucky Break & Academy All-Stars (Glenn Maxwell #1&2 bind up). Random House Australia, 2 Nov 2015, 384pp., $19.99 (pbk.), ISBN 9780857988867
Will Albright is twelve years old. He's a little short for his age, but he can still give a cricket ball a good whack. Will is spotted by a talent scout and chosen for a T20 cricket camp where he meets his cricketing hero, Glenn Maxwell, and befriends two fellow campers, Shavil, an Indian Australian boy, and—to his initial astonishment—Zoe. (There are GIRLS at this camp, too!)
Author Patrick Loughlin, a Sydney-based English teacher, already has 'runs on the board' when it comes to sports-themed series. His four-book Billy Slater series, featuring Australian rugby league fullback, was published in 2014. The Glenn Maxwell series, with lively illustrations by James Hart, also comprises four books. (State Showdown and World Domination follow the two titles reviewed here and they, too, are available in a single-volume bindup.)
Throughout the series, the fictionalised Maxwell offers coaching tips. Along with specific suggestions about how to play spin bowling and the reverse sweep, Maxwell encourages a self-doubting Will with pithy dictums like 'good players create their own luck' and 'enjoy the moment'.
At the end of Lucky Break, Will learns that he has been accepted into the Victorian T20 Cricket Academy and book two, Academy All-Stars, continues his story from this point. As Will faces failure on the pitch and battles with self-doubt off it, Maxwell continues to act as Will's guide: 'Sometimes you have to find out how to fit into the team, not how to make the team fit you'. Will switches his focus from batting to bowling and is selected for the Junior Boys Victorian T20 squad as a spinner.
Loughlin's stories, shaped into short chapters, are funny, fast-paced and action-packed. They are crammed with cricketing terminology and include characters from a range of ethnic backgrounds. The text uses alliteration and rhyme to good effect. (Will 'sliced, he slashed, he scooped, he smashed … He cracked and smacked and whacked the ball'.) A detailed glossary of cricket terms closes the books, along with information on Glenn Maxwell's career and his 'Top T20 Tips' for batting, switch-hitting and off-spin.
Expect these books to be devoured by cricket-mad readers, especially those who follow the T20 Big Bash League.  For ages 9+
Reviewed by Tessa Wooldridge