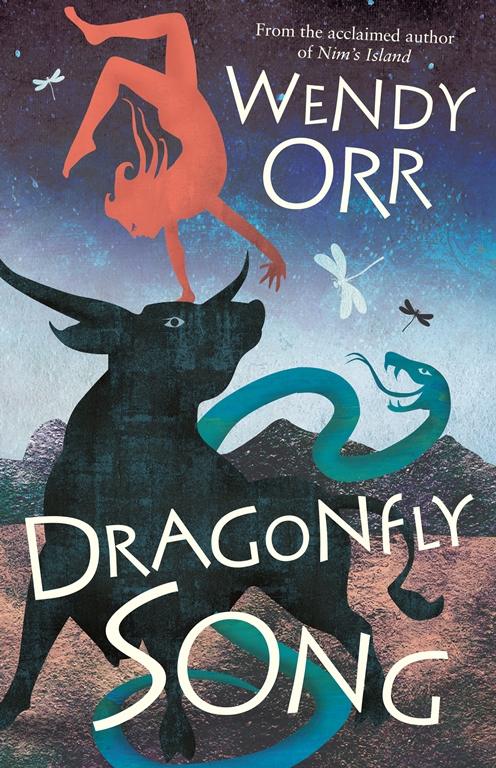 Wendy Orr,  Dragonfly Song,  Allen & Unwin, July 2016,  400pp.,  $16.99 (pbk),  ISBN: 9781760290023
Every year, the inhabitants of an ancient Bronze Age island must nominate two thirteen-year-olds to take part in dangerous ceremonial bull dances. None, so far, have survived. Inspired by Minoan culture, Dragonfly Song takes place in a world where human blood is spilt freely and given with honour to ensure the gods' continued good favour.
Into this fiercely hierarchical culture Aissa is born. Due to a small physical imperfection, she is deemed unworthy and her highborn identity stripped away. Aissa, believed to be cursed by the gods, is jeered at and spat upon at every turn. Called 'No Name' due to her inability to speak, this troubled child starts to believe what everyone tells her: that she is of no worth to anyone, including herself.
Hints of Aissa's real heritage and priestess-like gifts whisper in her mind, but as an outcast from society, all she can focus on is surviving day-to-day. Her bravery and resilience grow as she learns how to fashion a slingshot from strips of cedar bark, how to forage for edibles, and how to kill a wolf and use its coat for warmth. But life on the fringe is still a terrible struggle, and Aissa dreams of becoming a bull dancer herself, so as to escape her lot in life.
Wendy Orr poignantly chronicles Aissa's loneliness, her struggle with her identity, and the plight of growing up in a society where only perfection will please the gods. Aissa's selective mutism is one of the most interesting elements of all, especially in the way it links to her suppressed trauma and plays out over the story.
Told in lyrical prose alternating with free verse, this is a beautifully written story, which I would have enjoyed listening to just as much as reading. At close to four hundred pages, it is relatively long for the age group for which it is intended, but due to the use of verse, the pages turn quickly.
Children who like mythical stories, a touch of fantasy, or tales of survival in the wild, are sure to appreciate Dragonfly Song. In addition, readers of any age who have experienced traumas of their own might draw comfort and wisdom from the story of Aissa.
Recommended for ages 9-13
Teachers' notes are available on the Allen & Unwin website.
Reviewed by Elizabeth Foster