Reviewer Kristyn shares her picks for 2016…
The City of Mirrors – Justin Cronin
The last book to the trilogy was worth the wait. This is a very long trilogy but it was a good twist to the vampire mythology.


A great YA book that deals with serious teen issues in a non preachy way.


Stiletto – Daniel O'Malley
Four years of waiting but the sequel to The Rook did not disappoint.


A bit about reviewer Kristyn M. Levis….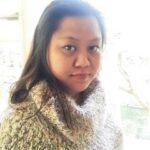 Kristyn M. Levis is a freelance writer, author and photographer with over 13 years experience. She worked as a TV reporter in the Philippines and a radio broadcaster with SBS in Sydney, where she still occasionally does voice-overs. She also has experience as a journalist, sub editor and editor for various print and online media, including such titles as
Madison
,
Your Garden
,
Dolly
,
House and Garden
,
CNet
,
APC
,
Practical Parenting
and more. Several of her stories have landed in the
New York Times
and Al Jazeera. She self-published two children's picture books in the last three years. Her young adult novel
The Girl Between Two Worlds
was published by Anvil Publishing. She is currently working on book two.