Aleesah Darlison, Courtney Little, Plots & Potions, Big Sky Publishing, September 2021, 176 pp., RRP $12.99 (pbk), ISBN 9781922488381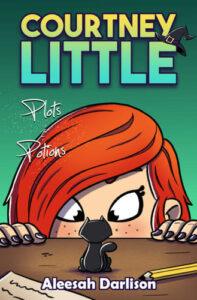 Courtney Little, Plots and Potions is the latest instalment in this appealing new series for young girls. Adventure and intrigue lie in wait for Courtney and her friends as they ready to set off for an upcoming school trip. Initially, on receiving the news of the impending camp, Courtney presents every reason, to her mother, for why she should not attend. Basically, she argues that the outdoor experience is just not her 'scene'.  But what is a camp without a few dramas?
So, when Courtney discovers the underhanded plotting and planning of some of the key people at the camp, she has no alternative but to draw on her raft of potions and spells to avert the impending danger to her friends. A wonderful mix of drama, magic and even a miniature cat will surely delight readers (aged 8-12 years).
Other books in this Adventure Series for Girls include: Courtney Little Secrets and Spells and Courtney Little Hauntings and Hexes.
Courtney Little, the main character in this fresh adventure series, is a great role model for girls aged 8-12 years. Recommended as a worthwhile read for this age group who are bound to enjoy Courtney's latest adventure.
Reviewed by Julie Deane
Video of Courtney Little author, Aleesah Darlison.