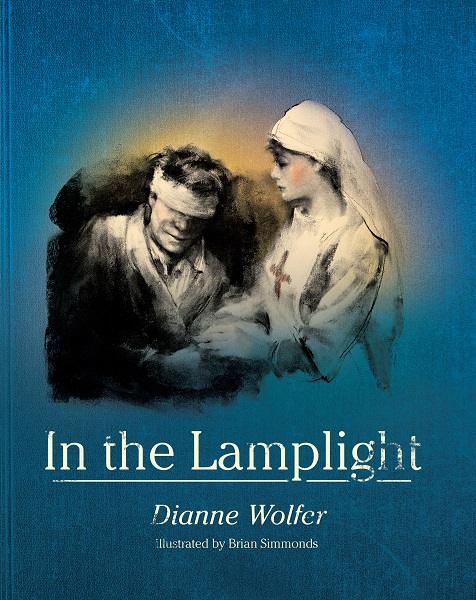 Dianne Wolfer (text), Brian Simmonds (illus.), In the Lamplight, Fremantle Press, April 2018, 120pp., $26.99 (hbk) ISBN 9781925591224
This historical fiction publication; specially coinciding with the 100th anniversary of the end of the war, evolved from research from Diane Wolfer's other, award-winning titles, Lighthouse Girl and Light Horse Boy. The evocative photographs, archival pieces and charcoal artwork superbly combine with the raw and moving storyline of Rose O'Reilly and her role within a repatriation hospital in Harefield, England, for wounded Australian soldiers during World War 1. In the Lamplight is highly recommended for educating both early and older readers on the heroic Australian spirit in the face of war, about the history of women's voting rights, bravery and loss of life. Whilst at the same time, it blends in a beautiful story of dedication and love.
The book's format neatly infuses a mix of diary writing and narrative, with elegant language switching from first to third person, and back again. The lead character, Rose, whilst fictional, portrays a very real imitation of the developments a young teenager experiencing the trials, tribulations, hardships and treasures of war from 1914 to 1918 and beyond. She volunteers to read to the patients, her tenacity carrying her through horrific scenes of injury, illness and personal heartache. But amongst the darkness a guiding light leads Sergeant Jim O'Donnell to her; the Light Horse Boy with eyes covered in bandages and unable to walk. And this light carves a new passage for Rose that takes her across the seas, forging a whole new life of clarity and peace.
The final pages contain acknowledgements and background information about Dianne Wolfer's research from her visit to Harefield's Anzac cemetery and Harefield Hospital in 2011.
In the Lamplight attentively transports its readers to another era of historic significance in Australian wartime history. Essential reading for middle to upper primary students.
Background information can be found on Dianne Wolfer's website.
Teaching notes are available on the Fremantle Press website.
Reviewed by Romi Sharp