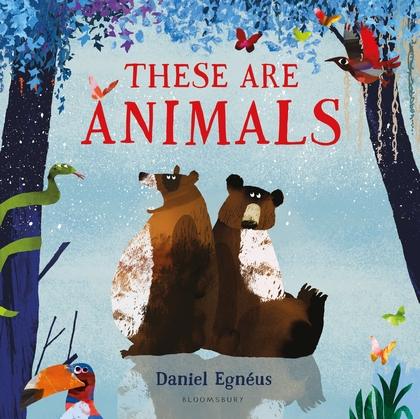 Daniel Egnéus,These are Animals, Bloomsbury Australia, April 2018, 32pp., $24.99 (hbk) ISBN 9781408889909
What a delightfully beautiful, funny and enchanting journey through a categorical sequence of habitats as varied species of animals are introduced from all over the world. An engaging welcome note reminds us of the unique diversity our earth has to offer, inviting us to meet the animals:
"Some are wide and some are tall, long and thin, round and small. Prickly, squeaky, growly, spiny, fierce, loud, sleek and shiny."
Preschool aged children will adore the antics of active creatures, simplified in mostly short sentences of noun and verb, most of which are often unfurled with enhanced expression.
"Whales SPLASH. Seals bark – ARF ARF ARF. Polar bears have HUGE paws. And penguins sliiiide."
Gorgeous pencil, collage and digital artworks create masterfully designed illustrations in perfectly matched hues, tones and technique to suit the given environment. A mystical, speckled icy scene informs us of the Woodland Animals with squeaking rabbits and hedgehogs that snuffle, then changing season to orange-based scatters of leaf-chomping moose and jumping foxes. There are Polar Animals, those in the Grasslands, a-oooo's and twit twooo's in the Nighttime, Rainforest and Ocean Animals with amazing colours, patterns and actions to explore. Animals galore!
These are Animals is a sparkling, sensory read aloud experience to wreak noisy and lively havoc amongst little ones. With language they will relish and illustrations to pore over, and maybe even attempt to replicate themselves, young children will find this book so friendly, fun and stimulating in their learnings about animals and their habitats and characteristics. Highly recommended for ages three and up.
Reviewed by Romi Sharp