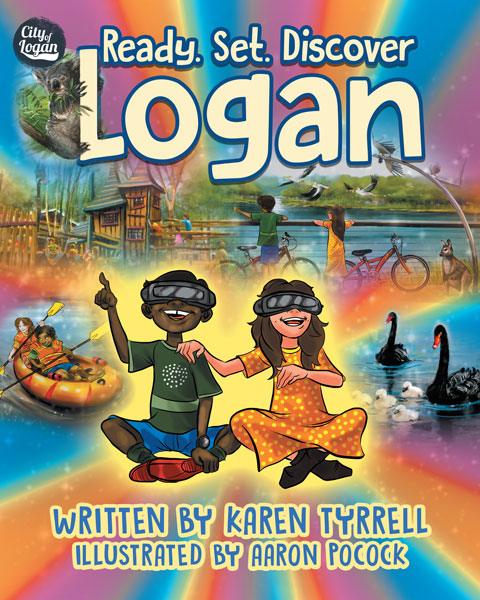 Karen Tyrrell (text), Aaron Pocock (illus.), Ready. Set. Discover Logan, Digital Future Press, March 2018, 40pp., $15.95 (pbk), ISBN 9780994302199
Yana and her family arrive in Australia from their country; to the City of Logan in Brisbane in the south eastern region of Queensland. Yana's apprehension is soon relieved upon meeting Bunji, a young Aboriginal boy at the local library. Upon Yana's enquiry, he enthusiastically guides her from scene to scene, visiting all of the area's inspiring sites and attractions. Along with Yana, those of us unfamiliar with Logan are enriched with a sample of cultural, traditional and recreational experiences. From the Chung Tian Temple to Daisy Hill Koala Centre, riding along Berrinba Wetlands to canoeing on Logan River, splashing at Darlington Parklands, plus more.
Tyrrell's story is brimming with lively action and constant movement, demonstrating excitement through her characters' voices and the varied locations on every page turn. Logistically, it's a lot to pack in one day, and perhaps some areas might have benefitted from more attention. However, as a guided snippet of a busy town, this book certainly creates a buzz for eager tourists, and even for those in their own backyard.
Pocock's digital illustrations bring this city to life with colour and authenticity. Ready. Set. Discover Logan, supported by the Queensland Government and created with consideration for Aboriginal and Torres Strait Islander people, is diverse, significant and attractive. The book would prove a valuable resource for primary school students in the Brisbane area and beyond for its capabilities in exploring environment, culture and immigration, all through an engaging story of friendship and belonging.
Teacher resources and activities can be downloaded at the author's website.
Reviewed by Romi Sharp