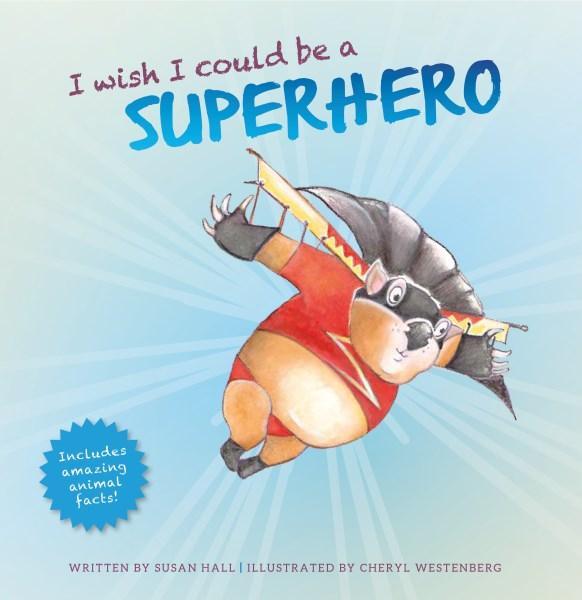 Susan Hall (text) Cheryl Westenberg (illus.) I Wish I Could Be a Superhero,  National Library of Australia Publishing,  1 Oct 2017,  32pp., $17.99 (pbk), ISBN 9780642278890
This amusing flap book for young children introduces the reader to Wesley Wombat. Like many pre-schoolers, he wants to be a superhero and is dressed up with a cape, red pants, a red top with lightning emblazoned on it and a mask. He envies his friends who have 'superpowers' of various types such as being able to fly (the lorikeet), swim underwater (the platypus), and jump really high (the kangaroo).
Each left-hand page shows Wesley with the relevant friend and lifting the flap on the right-hand page shows the disastrous results when he attempts to undertake the same activities as them. However, by the end of the book, Wesley has proved his worth and his friends think he IS a superhero.
The text in the main part of the book is simple and repetitive, with the illustrations telling much of the story. The last five pages contain photographs and information about each of the animals mentioned, and listed at the end are the experts who have checked the facts.
The illustrations of the child-like Wesley are engaging and humorous on cream-coloured backgrounds with blue flaps. The paper quality is sturdy to stand up to lots of wear and tear. This is an engaging book which may prove very popular with early childhood readers.
Reviewed by Lynne Babbage