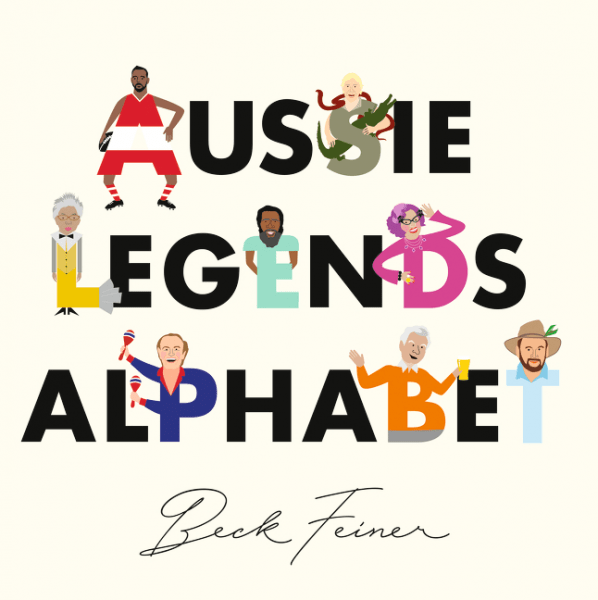 Beck Feiner,  Aussie Legends Alphabet,  ABC Books/HarperCollins Australia,  18 Sept 2017,  56pp.,  $24.99 (hbk),  ISBN 9780733338946
The impetus for the creation of this book came when Beck Feiner couldn't find an interesting alphabet book for her preschool-aged son. She thought the traditional' A is for apple, B is for banana' books quite boring and uninspiring. She decided to create an alphabet herself, designing a letter a day and posting them on her Instagram account. She received lots of positive feedback, including from some of the living icons she had used. Originally available as a poster, the alphabet has now been published as a picture book.
The graphic design of the book is excellent. Each person (and a horse) chosen is drawn using the shape of the relevant letter. This is a bit hard to explain but imagine Adam Goodes shown as a red-and-white striped capital letter A with his head on top, legs below and arms by its side.
The relevant letter is highlighted in a different colour in the accompanying white text on the opposite page. The text begins with "A is for ..", or whatever is the relevant letter, and then has a statement of fact about the person or animal. The background colours of the pages differ from page to page and these colours also are used on the final couple of pages which give a further paragraph of information about each icon included.
One small niggle is with some of the wording and the bias of the people included. While the author has gone to great lengths to represent the cultural and ethnic diversity which is modern Australia, and to include sports icons, doctors, entertainers, politicians, musicians and activists, among others, there are no artists or business people and the two prime ministers included are both from the Labor party. While further information is available at the back of the book, it seems a shame that the caption for Julia Gillard reads 'she smashed the glass ceiling and achieved something that no Australian woman even has' – but it doesn't say what!
A group of ten-year-olds to whom the book was read, had hardly heard of any of the people in it, so this may be a great educational tool not only for those learning their alphabet, but also those who need to know more about our history.
A Teaching Guide is available on the HarperCollins website.
Reviewed by Lynne Babbage