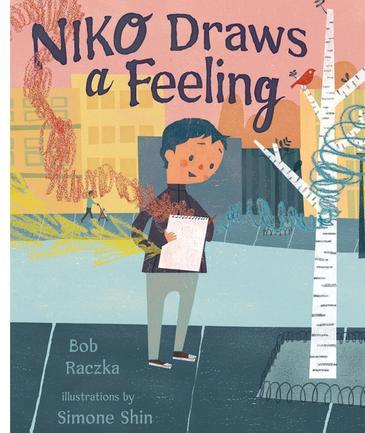 Bob Raczka (text),  Simone Shin (illus.), Niko Draws a Feeling, Carolrhoda Books/Walker Books Australia, 1 May 2017, 32pp.,  $24.99 (hbk),  ISBN: 9781467798433
This is a book for misunderstood artists, young and old. It's also for those of us whose artistic dabblings go under-appreciated by our nearest and dearest. Niko loves to draw but his drawings are abstract. Everyone from school friends, to teachers, to parents invariably respond with "what is it?"
There's some beautiful language in this book.
When Niko was inspired, it felt like a window opening in his brain. An idea would flit through the open window like a butterfly, flutter down to his stomach, then along his arm and fingers to his pencils, where it would escape onto his paper in a whirlwind of color.
Niko becomes discouraged by the quizzical responses of those around him to his art work and responds – as all great artists – by creating a new picture. Then a new neighbour Iris, a girl who is around Niko's age, moves in and asks if she can come over to see his pictures. Niko is reluctant but feels it would be rude to say no. Iris, a kindred spirit, doesn't ask questions, she just enjoys looking. When she discovers Niko's most recent work she says, "You must have been sad when you made this picture".  Suffice to say they connect and Niko inspired, draws a picture for her. A picture "that makes me feel like I made a new friend".
This would be an excellent book to initiate discussions in the classroom about what makes something 'art' and examining different styles of art; particularly abstract or impressionism. It could be used in social studies classes or even in the art room to encourage the idea that everyone's artistic attempts should be validated.
Reviewed by Heather Gallagher