Michael Rosen (text) and Robert Starling (illustrator), I am wriggly, Walker Books, July 2023, 32 pp., RRP $27.99 (pbk), ISBN 9871529506587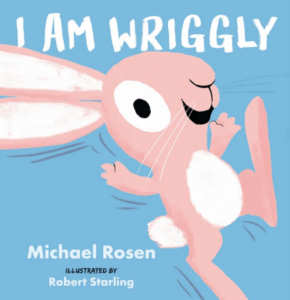 I can't stop wriggling, I can't stop giggling, I can't stop popping, I can't stop hopping.
What happens when a wriggly bunny can't be still?
He wriggles inside, outside and all around!
Fun and energetic, Michael Rosen, former Children's Laureate, captures the spirit of little children everywhere. The fourth book in a series, I am wriggly is light-hearted and fun, and best not read before naptime!
Readers will enjoy the infectious rhyme and joyful illustrations, making for an engaging and lively read aloud experience.
Much like the former books in the series, the text is simple and light with an engaging topic, and young children will, ironically, connect with our wriggly character long enough to have them sitting still for at least a few minutes.
Robert Starling's illustrations are bright and bold and capture every excitable movement as bunny continues until sheer exhaustion wins.
Exploring themes of self-expression, language, and imagination the note to grown-ups resonates most: This book is a book to play with. Feel free to sing, chant or dance the words of the book…the most important thing is that you have fun with words.
Here is a comprehensive bibliography of Michael's books, and a review of another series favourite I am hungry by fellow reviewer Maura Pierlot.
Reviewed by Shelley Stephens