Michael Rosen (text) and Robert Starling (illustrator), I Am Hungry, Walker Books, January 2022, 32pp, RRP $27.99 (hbk), ISBN 9781406396669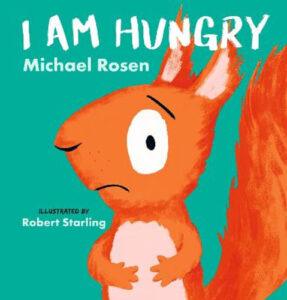 Michael Rosen and Robert Starling have done it again! Fresh on the heels of I Am Angry, comes I Am Hungry, a fun romp about an often-challenging mood (especially for toddlers) … hunger!
You know when you're so hungry that you imagine you could eat just about anything? That's how the red squirrel, I Am Hungry's adorable lead character, feels. Cleverly exploring the interplay of thoughts and feelings, this easy-to-read story looks at things to munch, from the real to the absurd. But don't be fooled! This deceptively simple tale also traces the likely consequences of some of squirrel's questionable food choices. Best read aloud, the rollicking rhyme rolls off the tongue:
I'm SO hungry, I'll eat … a birthday cake: a tummy ache, a funny joke, an egg yolk, vanilla ice cream, a very bad dream…
Like I Am Angry, the latest title is easy on the eye – bright and bold with plenty of white space. Also like its predecessor, the text for I Am Hungry first appeared in a poetry collection by author Rosen (A Great Big Cuddle: Poems for the Very Young), a former UK Children's Laureate. Two more books are in the works: I Am Happy and I Am Wriggly, though I'd also love to see a compilation of the first two titles: I Am Hangry 😉
If you're hungry for a fun, entertaining read, check out I Am Hungry. For ages 4+ years.
And while you're scanning the bookshelves, check out Rosen's latest adult poetry collection, Many Different Kinds of Love – a series of deeply personal reflections on his 48 days in intensive care after contracting COVID-19 in 2020.
Reviewed by Maura Pierlot