Kathleen Glasgow & Liz Lawson, The night in question (The Agathas #2), HarperCollins Publishers, June 2023, 416 pp., RRP $18.25 (pbk), ISBN 9781460764268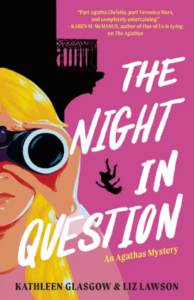 The night in question is co-written by Kathleen Glasgow & Liz Lawson, author of Girl in pieces and The lucky ones (respectively). The story switches perspective between these two best friends, Iris Adams and Alice Ogilvie, who previously solved a mysterious death of a classmate. In the sequel, we follow the two girls while solving the sudden attack of another classmate, that is intertwined with a death that occurred in the same place, Levy Castle, in 1949. As they unravel the mysteries, more and more secrets come to light and all the tension and suspense pays off in the end and leads to a very satisfying end.
It was really interesting seeing the authors exploring these two very different friends. Alice tends to apply situations from various Agatha Christie novels to help her solve problems and come to conclusions. Iris, however, has a group of friends who, like her, love to investigate and solve mysteries. Iris and Alice have their differences but are really good and an absolute powerhouse paired together.
This book is one with social situations similar to real life. There are corrupt organisations, betrayals, mental illnesses, violence, and high-school drama. There are some terms, not overly complex ones, included in the story that are explained simply, either through actions or words.
I think the book would be well suited to readers aged 12+. It does contain possibly triggering home situations for people who are or have suffered from domestic violence, however it is not a prominent issue, just a situation through which Iris has to overcome and fight her way through.
Reviewed by Grace Gaffney