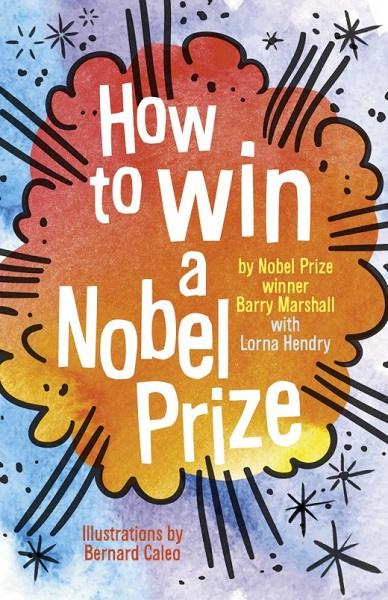 Barry Marshall with Lorna Hendry (text), Bernard Caleo (illus.), How to Win a Nobel Prize, Piccolo Nero, 2 April 2018, 192pp., $14.99 (pbk),  ISBN: 9781760640064
Ten-year-old Mary is an enthusiastic young scientist who would love to win a Nobel Prize one day.  She is thrilled when she meets Dr Barry Marshall and he agrees to travel through time with her so that they can meet some famous Nobel winning scientists credited with some of the world's most important scientific discoveries and inventions.
Each chapter recounts a fictional conversation with a scientist.  Mary chats to Albert Einstein about his theory of relativity, Marconi explains morse code and Fleming discovers penicillin – just to name a few scientists in the book.
I loved how the scientists' eccentricities are alluded to with humour, such as Marie Curie brusquely reprimanding Barry, and Albert Einstein neglecting his dull paid work. Through the conversations, scientific concepts are explained in easy to understand terms.
The chapters have an appendix consisting of detailed instructions for an experiment or activity that demonstrates the scientific principles covered in that chapter, as well as a page of formal biographical or scientific facts.  Consequently, the book works well as both an entertaining narrative and a factual text, making it accessible to both the scientific novice and the better informed.
Amusing black and white drawings are interspersed through the text, complementing the light hearted and entertaining tone of the narrative.
This book will be especially relevant to young science enthusiasts whilst also being an engaging and accessible way for anyone to learn about some interesting scientists and their fascinating discoveries and inventions. It is suitable for children aged 9-12 years.
Reviewed by Barbara Swartz