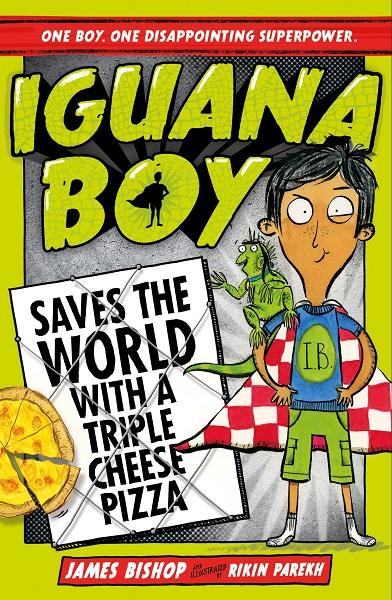 James Bishop (text), Rikin Parekh (illus.),  Iguana Boy Saves the World With a Triple Cheese Pizza, Hachette Australia, 24 April 2018, 176pp., $14.99 (pbk),  ISBN: 9781444939347
Dylan is a gentle and sensitive boy who would love to have a superpower, just as his two siblings, Sam and Millie (aka Arctic Thunder and Millie Monday) do.  But his nasty siblings tease him relentlessly about his lack of superhero status and his general limited prowess.  So, when Dylan discovers that he can communicate with iguanas he is somewhat disappointed with this seemingly useless superpower
Nonetheless, it turns out to be Dylan and his four mischief making iguana friends who save the world from the evil plot of Celina Shufflebottom (aka Platypus Kid). Celina plans to use her Superpower Neutraliser Machine to remove superpowers of all members of the Superhero Collective, paving the way for her and her group of platypuses to take over the world so that she can always get her own way. By thwarting Celina's plans, Dylan gains the respect of his siblings and the remainder of the Superhero Collective.
The plot action is slow to develop at the beginning of the book. The early storyline is devoted to describing the characters and their specific superpowers as well as their outrageously nasty, ill-mannered or eccentric characteristics, and slapstick antics.  However, I think children would enjoy the playfulness in the development of these characters and the originality of their absurd characteristics and unusual superpowers.  There is also plenty of tongue in cheek humour, dialogue of amusing banter and general cheerful silliness, as well as a smattering of fart jokes to keep the kids entertained.  About half way through the book the action picks up as Dylan and his sidekick iguanas hatch their plan to defeat Platypus Kid.
Cartoon style, quirky images and short comic strips are scattered through the book. They add to the general boisterous tone of the book whilst providing visual imagery of the characters and scenarios.  I especially love the drawing of Platypus Kid surrounded by two-legged platypuses with fearsome facial expressions and brandishing cricket bats.
This book will appeal to children about 5-10 years old who enjoy superpower adventure stories with plenty of humour.  Having both female and male characters makes it relevant to both boys and girls.
Reviewed by Barbara Swartz