Charlotte Lance (text) and David Booth (illustrator), Moth in a Fancy Cardigan, Berbay Publishing, March 2022, 200 pp., RRP $19.99 (hbk), ISBN 9780645069624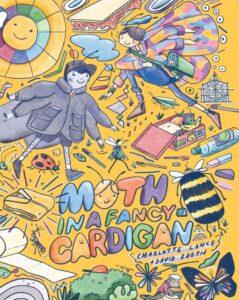 Moth in a Fancy Cardigan is a gorgeous tale of a moth and a butterfly desperate to be something they are not.
Gary Grey Moth lives a dreary life. His clothes are grey, his home is grey, everything is grey. Gary despises grey. But this is his life. What can he do?
Florence butterfly is bright, vibrant and utterly beautiful. Everyone notices her, unlike Gary who is basically invisible.
Florence is particularly colourful when she wears her yellow cardigan. The cardigan is super special as it was a gift from her grandmother when she first started school.
Except, the cardigan doesn't feel quite right to Florence. She doesn't love the bold brightness of being a butterfly. And when Florence accidently loses her cardigan, she doesn't feel relief, just more lost than ever.
Gary, however, has just found the one thing that could change his life completely.
This sweet and funny story is a search for understanding of who we are and how we fit in. It is a gentle look at how our heritage can impact who we are and who we want to be.
Clever, touching, and totally relatable, Moth in a Fancy Cardigan is a delightful story perfect for junior fiction readers.
Reviewed by Fiona Miller-Stevens