Suzanne Main. How I Alienated my Grandma Scholastic NZ,  1 April 2015,  $AU14.99/$NZ17.00 (pbk),  280pp.,  ISBN 978-1-77543-306-4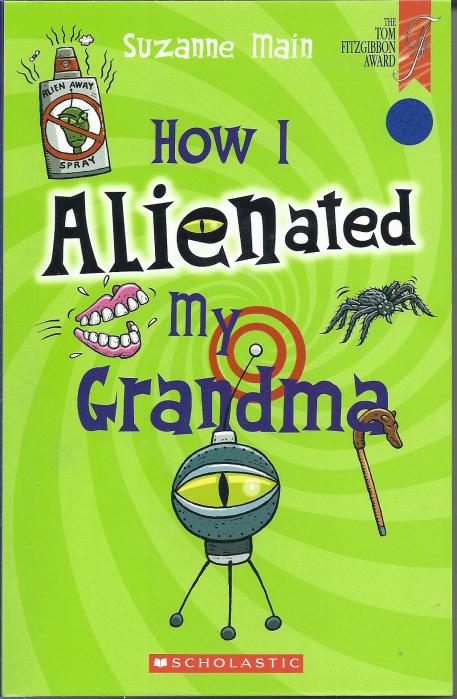 Winner of The Tom Fitzgibbon Award (2015), a NZ prize awarded by Storylines Children's Literature Trust for the best manuscript from a previously unpublished author, this intriguing science fiction fantasy works at many levels. Firstly, the story is absolutely engaging. When young Michael uses a metal detector for the first time at his home and locates a strange unearthly object, he is intrigued. However, when he accidently activates this beaming "beacon" and causes his grandmother to be suddenly taken over by a lizard-like creature which turns out to be an alien, he is dumbfounded.  His endearing grandma becomes the enemy. However, with his best mate Elvis, a nerdy geek, and also accompanied by a local old weirdo who has claimed for 30 years that he saw a spaceship crash land nearby (and who has consequently been alienated or othered by "normal" people) and who also claims that the end of the world is about to happen, Michael and Elvis are on the adventure of a lifetime.  This old guy Bill is right. This crashed spaceship is portal to another world and has to be found.
This story is, of course, a take on the superhero genre, but these lads bumble about and make all sorts of errors of judgment such that an alien invasion seems, right at the end, inevitable. A dark small "wormhole" of black matter and negative energy has appeared in the universe and our "heroes", through the use of the latest technology, overhear the plans of the commander from Xylon to enter our planet through this wormhole. Indeed, the ending is more open than closed!
Secondly, the story is absolutely provocative. A creative and quirky teacher (who *smile* is alienated by normal curriculum designers) will see all sorts of individualised "projects" that an upper primary/ senior school class could engage in as the story is being read aloud. Black holes in the universe, National Parks, inter-generational differences, technology and gadgets, alien sightings: are they for real?, the library as an alien space, maps and map-reading are all topics that could be provoked by this intriguing story.
Finally, the business of writing and getting published (given the nature of the award for this book) is something that might intrigue middle school students/readers and could be a focus in sharing this book in the context of other award-winning books. Young readers today need to be inspired by the passion that sits behind publication (as the acknowledgments at the end of the book detail) and be encouraged to pick up the "torch" as it were and run too. Teacher notes are available on the Scholastic NZ website.  Highly recommended.
reviewed by John McKenzie