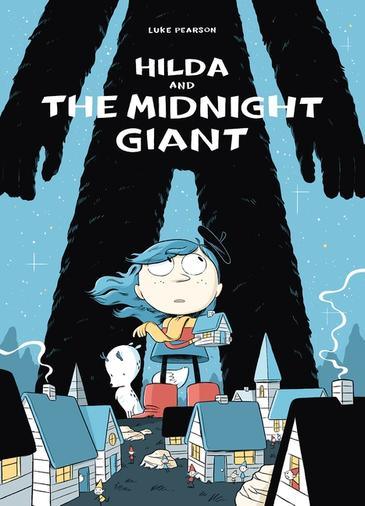 Luke Pearson,  Hilda and the Midnight Giant (Hilda #2),  Walker Books Australia,  1 May 2016,  48pp.,  $16.99 (pbk),  ISBN: 9781909263796
Are there little people living near you? Could you be one of the little people in a giant's world? This graphic novel made me think about these fantastical possibilities and so much more about the reality of the world around me.
The story begins with Hilda and her Mum receiving a tiny note from the invisible elves; another threat to evict them from their home. Hilda writes a return letter but the elves attack in force. Even though Hilda bravely defended her home last time her Mum is concerned and wants to return to town. Hilda doesn't want to leave and her Mum agrees to stay if Hilda can get the elves to leave them alone. When Hilda's eyes open to the elven community living around them she tries to find a way for them all to live together safely and peacefully.
The minimal text and accompanyingimages provided enough development of all the characters for me to delight in their unique quirkiness. The illustrations are in a range of vibrant and sombre colours with a variety of panel sizes as the story progresses.
Whether the author/illustrator, Luke Pearson, meant to or not, I saw many parallels to today; but the greatest point this book made to me was how we can sometimes not think about how our actions affect others around us and the devastating consequences this can have; like leaving your home, and even your country, to seek refuge to live in peace and safety.
It is quite surprising that I garnered so much from this book considering it is a super quick read. However it is a book one can read again and again, savouring the text and images and all the messages they convey.
There are more books in the series and each can be read separately. I also hear that Hilda is coming to film!
Reviewed by Sharon Smith