Jennifer Cossins, Book of Curious Birds, Hachette Australia, October 2021, 64 pp., RRP $26.99 (hbk), ISBN 9780734420473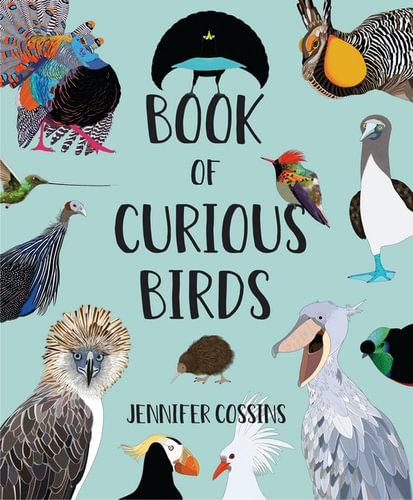 Jennifer Cossins's distinctive, bold, colourful and 'full of character' animal illustrations are once again exhibited in this lovely celebration of a diverse range of bird species.
A two-page spread is dedicated to each bird species, beginning with a summary of key facts, followed by a few paragraphs that describe interesting features and behaviours, alongside a full-page illustration of the bird. Cossins has illustrated several animal books, and she has a knack for capturing just the right amount of detail and personality whilst retaining the simplicity of illustration. Each of the unique birds, set against a clean white backdrop, is sure to be a delight for the reader's visual senses.
There are 28 birds featured in total, from all over the world, and they are not your usual suspects. The accompanying information and illustrations highlight the range of 'curious' features of the birds, from the brightly coloured casque atop the Rhinoceros hornbill's head to the poisonous Hooded Pitohui that can cause paralysis and death. This book captures the diversity and awesomeness within the bird family.
For children who are interested in the world around them (pretty much all children) this non-fiction book is interesting, beautifully presented and with appropriate text for children aged 8 or above.
Reviewed by Julie Bertola