Rosanne Hawke, Fozia and the Quest of Prince Zal, University of Queensland Press, March 2021, 176 pp., RRP $14.99 (pbk), ISBN 9780702263071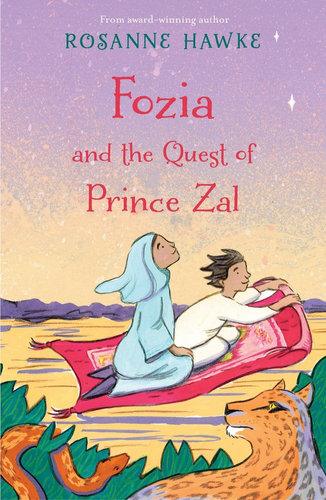 Fozia is a twelve-year-old Pakistani girl who has survived a massive flood in her village but in the process has lost her parents and younger sister. Fortunately, she and her surviving dog Lali are 'adopted' by a caring family with two young sons who adore their new 'sister'. However, Fozia is torn between feeling grateful for her new 'family' and not forgetting her own family, holding onto the hope that her missing parents may still be alive.
The story follows the day-to-day life of Fozia; her daily chores, school and time spent with her adopted brothers and friends. It's in these down times that Fozia relates the fantastical story of Prince Zal and his brave quest, overcoming several challenges to find his missing sister. As the book progresses the reader realises that Prince Zal's 'story' has many similarities with Fozia's own and both their endings are inextricably linked.
Rosanne Hawke's text is warm and engaging, interspersed with Urdu words so the reader really experiences a sense of life in Pakistan. Fozia's feelings of sadness, guilt and worry are sensitively explored, and the concurrent use of a fantasy story is a clever way to communicate a difficult situation for younger readers. The inclusion of a Skype friend from Australia is also a nice link to help Australian readers relate to the story.
This is a book rich with characters exhibiting wonderful traits of humanity and would be a great story for children aged 7 and older that highlights themes of courage, hope, love and resilience.
Reviewed by Julie Bertola