Jonathan Stroud, The Outlaws Scarlett & Browne, Walker Books, April 2021, 400 pp., RRP $18.99 (pbk), ISBN 9781406394818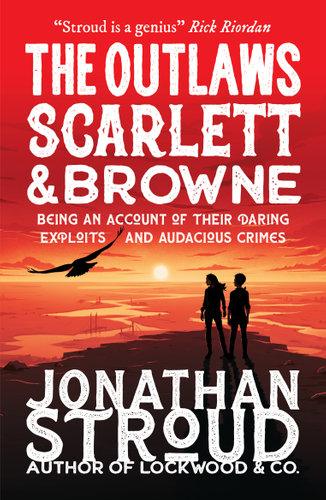 Jane Oakley, Jenny Blackwood, and Alice Cardew, three false names for one fierce, redheaded, outlaw. Scarlett McCain doesn't need anyone else. She survives in the chaotic Seven Kingdoms via her wits, and pistol, and doesn't look back. And everything had been going just fine too, that is until she saves the weak and naïve Albert Browne, who in return pulls her into the wake of a tsunami of trouble.
Albert has a dark past and a power inside him that he can't control. And worst of all, he is being pursued by a woman whose power and cruelty are beyond belief.
"If she should ever find us,' he said, 'you must run from her and keep running. Do not seek shelter; she will find you. Do not try to parley; she will cut you down. Do not fight back; she will laugh in your face as you spin and burn. Remember, it is death to go near her! Death!"
And so, together these two teenagers must try to escape their deadly pasts across a savage future Britain, filled with horrific beasts and lawless people.
The Outlaws Scarlett & Browne is a story set in a dystopian future Britain where war and climate change have caused both animals and people alike to evolve into beasts. In the few remaining towns, any genetic differences or deformities are seen as disgusting monstrosities, their hatred driving them to even leave babies with birthmarks in the forest to be eaten. Quite relevant, I felt, to our current society. Criminals are commonplace, and everyone is just trying to survive. It is shown throughout the book that appearances can be deceiving, and nothing is as simple as black and white.
I quite enjoyed this action-packed story, with its charismatic antiheroes. I loved slowly learning more about the characters and watching them change and grow. If you like a good dystopian, fast-paced YA fantasy adventure, you may just love The Outlaws Scarlett & Browne by Jonathan Stroud.
Reviewed by Libby Boas