Zadie Smith and Nick Laird (text) and Magenta Fox (illustrator), Weirdo, Penguin Random House, April 2021, 32 pp., RRP $27.99 (hbk), ISBN 9780241449608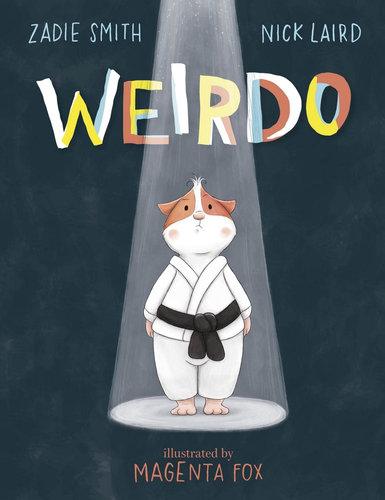 Who is Kit's soft, sleepy birthday surprise? A judo loving guinea pig wakes up to find herself surrounded by Kit's other pets. The pets snigger at her and call her weirdo. Not sure who she is or what her purpose might be, she bravely attempts to fit in but finds herself on an afternoon adventure with Kit's eccentric neighbour Emily and discovers it is okay to be yourself. When Kit returns from school, she gives her surprise a huge hug and introduces her to the other pets as Maud. The pets sheepishly apologise for calling her weirdo but Maud smiles and thinking of Emily, confirms she is a weirdo. She embraces her individuality and finds acceptance with the others by teaching them judo.
Maud is an endearing character who is brought to life in the fabulous, detailed illustrations which extend the story. Magenta artfully portrays the emotions of the characters and the busyness of life in an apartment block. Use of panels captures the action and gives the book a cinematic feel. With themes of difference, exclusion, acceptance, identity, emotions, pets and individuality, this book will appeal to young readers.
Reviewed by Sharon Seymour