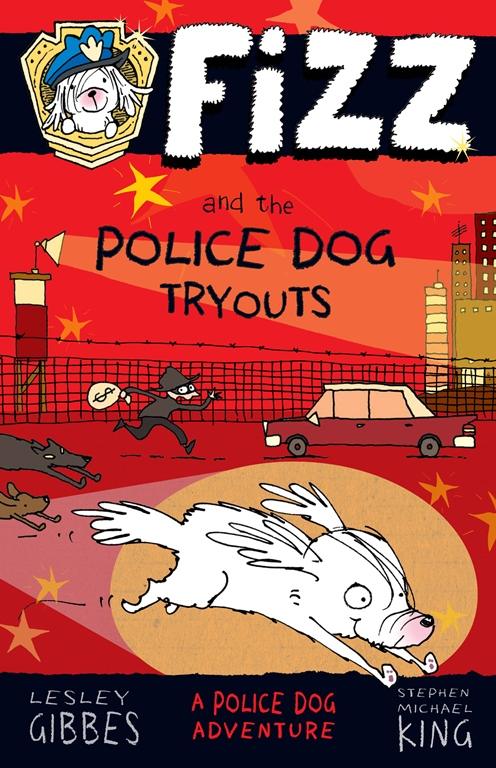 Lesley Gibbes (text),  Stephen Michael King (illus),  Fizz and the Police Dog Tryouts (Fizz #1),  Allen & Unwin,  June 2016,  80pp.,  $12.99 (pbk),  ISBN: 9781760112851
This appealing chapter book for newly independent readers is funny, touching and wildly entertaining.
Fizz and the Police Dog Tryouts is the first in a series of four books starring Fizz, an adorable, fluffy white Bolognese pup who dreams of being a Police Dog. Fizz comes from a proud family of show dogs, lapdogs and companion dogs, but has no interest in being a pampered pooch. He wants to work for a living, despite his toy-dog appearance. "How unfair to feel so brave and bold on the inside but to look so cute and cuddly on the outside."
So despite his family's misgivings, Fizz takes himself along to the police dog tryouts, but is nervous to find himself surrounded by Boxers, Dobermans, German Shepherds and Rottweilers. To add to Fizz's terror, from out of the crowd struts a terrifying, huge black dog called Amadeus, who declares that he'll be the next City Police Dog, while dismissing Fizz as a 'powder puff' and 'cotton ball'.
Hilarity follows as Fizz, Amadeus and the other dogs complete three challenges to determine who will become the next City Police Dog.
Fizz is a wonderful role model, with his steely determination and kind heart. During the tryouts, he befriends a chocolate lab called Benny, and the two dogs encourage each other as they move through the challenges. Fizz is a thoroughly loveable character and his spirited attitude and perseverance will inspire children overcoming challenges of their own.
A huge part of this book's appeal is in the hilarious, cartoon-style illustrations by Stephen Michael King. The expressive artwork brings the action to life and children will delight in the depictions of the different dogs, as well as Fizz's various facial expressions and funny predicaments.
Told in simple yet lively language with the occasional longer word thrown in (jacaranda, porcupine) this is an ideal first chapter book for younger readers.
Reviewed by Melinda Allan