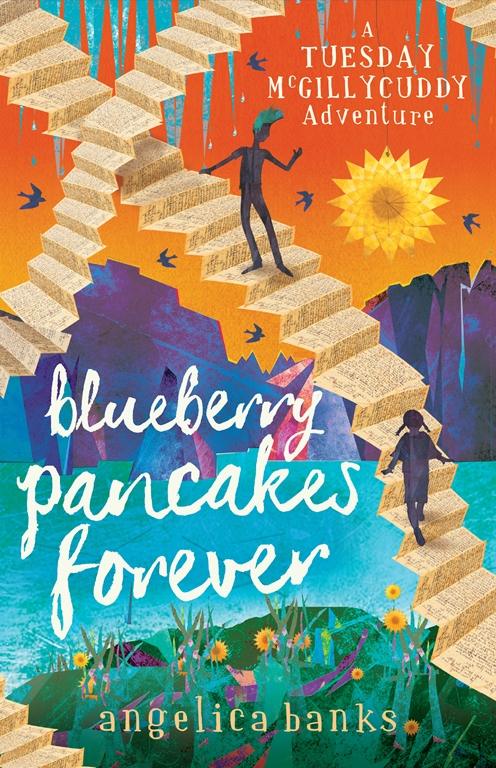 Angelica Banks, Blueberry Pancakes Forever, Allen & Unwin, June 2016, 336pp.,  $16.99 (pbk),  ISBN: 9781760110451
Blueberry Pancakes Forever is a sweeping fantasy filled with magical worlds, eccentric characters and ripping adventures is anchored by plucky young heroine Tuesday McGillycuddy. Young fantasy fans will be swept up in this tale that imagines the worlds created in the minds of writers exist in a kind of parallel universe, and that writers can travel into these worlds and meet the characters of their own creation.
The action begins in the world of 'story', where an endless winter has reduced the landscape to a hostile environment. Meanwhile, back in the real world, young writer Tuesday McGillycuddy and her author mother are struggling with unbearable grief. Tuesday's godmother arrives just in time to clean, up make tea and restore order to the household.
As her spirit is slowly restored, Tuesday's mother, Serendipity, is drawn back into the world of 'story' and Tuesday soon follows, landing on a strange ship to discover that her mother's character, fairy Vivienne Small, is in danger. Soon, Tuesday is swept into a new adventure with a mysterious grass-boy named Loddon.
Tuesday's godmother, entrusted with Tuesday's care, enters the world of story and tumbles her way through different worlds, meeting a cast of magical characters along the way as she embarks on her own adventure in the search for Tuesday.
The underlying theme woven through this book, which is the third in a trilogy, is of overcoming – and learning to live with grief. The resolution is bittersweet and filled with valuable lessons, as Tuesday learns to adjust to life after loss. Friendship, strength over adversity, resilience and the power of imagination are also explored.
The language is rich and descriptive, great for more confident readers of middle-to-upper primary school age seeking a slightly more challenging level of vocabulary.
Reviewed by Melinda Allan