Kylie Howarth, Fish Kid and the Turtle Torpedo (Book #3), Walker Books, March 2021, 160 pp., RRP $14.99 (pbk), ISBN 9781760652548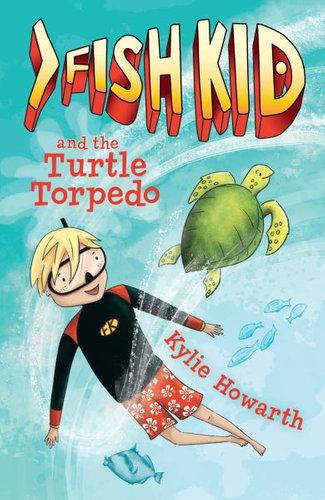 On a small island in the Maldives, Fish Kid and best friend Emely explore their new environment while their parents are at work. Things soon hot up however when they come across a sick sea turtle and must get it back to shore quickly. A new world of marine rescue soon opens up to the pair as well as many amazing marine animals and habitats. Fish Kid couldn't be happier but then Emely starts behaving strangely. Why has she suddenly become so secretive? And where does she go on those early morning outings? To make matters worse Fish Kid is worrying about the health of the turtle they found, not to mention another sick turtle that might drown in the deep ocean unless found very soon. Perhaps it's time to use super fish powers.
Third in the Fish Kid series, author and illustrator Kylie Howarth pitches her stories well for early readers. A skillfully paced narrative and dialogue with pages of interesting facts interspersed throughout the story about some of the sea creatures encountered by the two protagonists; gentle black and white illustrations support and extend the text.
A terrific early reader for years 7+ and a great addition to home or school libraries. Can be read as a stand-alone or part of a series.
Highly recommended.
Reviewed by Mem Capp