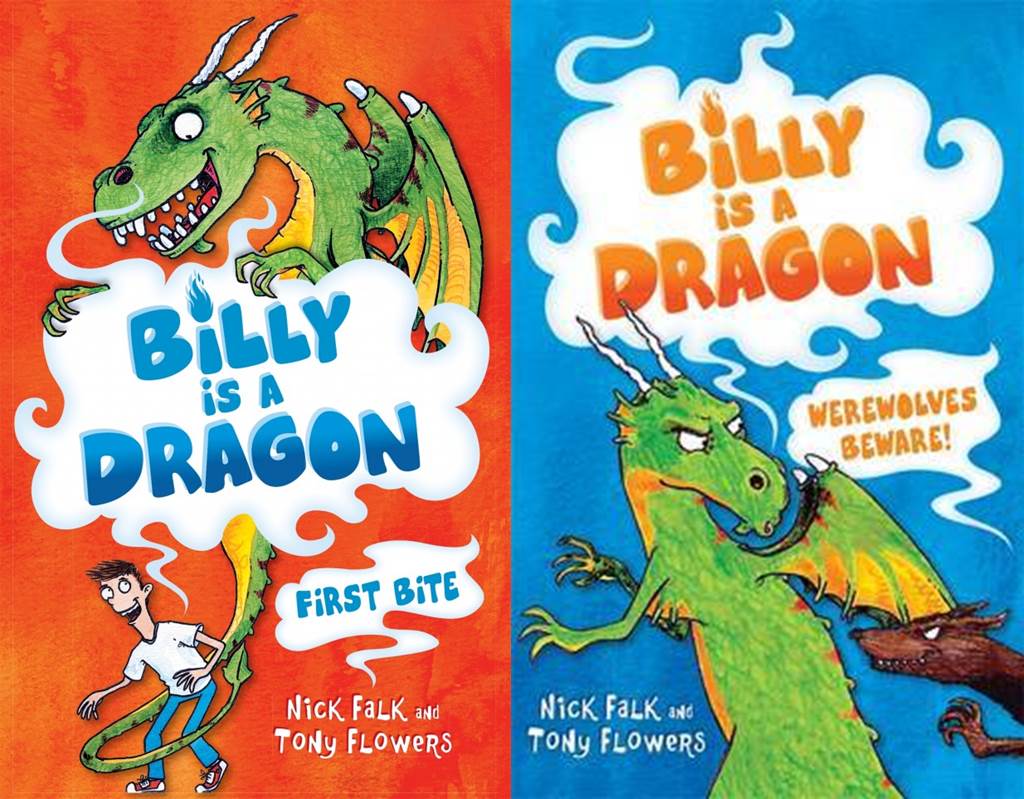 FALK, Nick (text) Tony Flowers (illus.) First Bite ISBN 9780857983053 SCIS 1649889; Werewolves Beware! ISBN 9780857983077 SCIS 1649894 Random House (Billy is a Dragon), 2014 140pp $12.99 pbk
This new series begins with an original premise.  Nine-year-old Billy is bitten by a lizard in a pet shop and soon after finds that he gradually turns into a dragon.  The description of his final metamorphosis in the toilets at school is funny and his friend Jeanie is supportive.  The story finishes with a lead in to the next book and the first chapter is given as a taster.
There are clever illustrations including a flip the page along the bottom right hand corners that show Billy gradually changing into a dragon.  The text features illustrated words and even the pages numbers are decorated with Bertha the dog.
In the second book, Benny the pet shop owner helps Billy come to grips with shapeshifting teachers, werewolves, werechickens, weremice, a werewombat and overall mistaken identity.  There is sufficient explanation woven into the second book for it to stand-alone.  The short chapters end on cliffhangers that make the books suitable for reading aloud.  Recommended for 6-8 year olds as imaginative, funny and sometimes suspenseful stories to enjoy.
reviewed by Julie Long