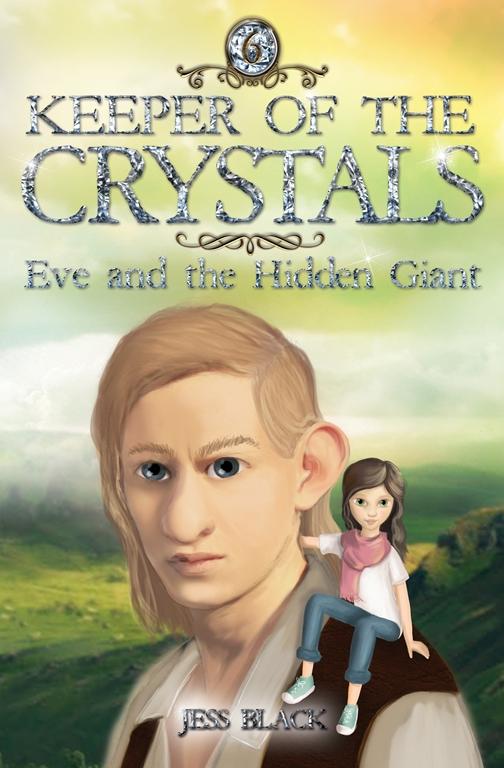 Jess Black (text),  Celeste Hulme (illus.), Eve and the Hidden Giant (Keeper of the Crystals #6), New Frontier Publishing,  1 August 2017, 68pp.,  $14.99 (pbk),  ISBN 9781925594003
Eve and the Hidden Giant is part six in the Keeper of the Crystals series by Jess Black, and it is just as wonderful as its predecessors.
In this new fantasy, while hiking to the top of Stingback Mountain, Oscar, Eve and Ingvar the dragon discover a new crystal and are blown through the air to the land of the giants to help heal the rift between the creators and the rogues.
A superb book with an eye-catching, sparkly cover and illustrations by Celeste Hulme. At only 68 pages and with helpful formatting, this book makes it easy for readers of all skills to enjoy. An adventure that can be enjoyed by itself or at any time in the series, as the author is a master at succinctly explaining past events.
Eve is our strong female protagonist who shows us that talking through an issue can help solve a problem… shame that it took 100 years for the giants to sit down and talk!
Jess Black weaves a story where each character, environment and emotion make the reader feel immersed in the story. Giggle as you imagine Eve and Oscar riding in a giant's armpit, feel the exhilaration as they fly through the clouds with Ingvar, and shiver with fear for the giant, Trotag, as he faces the waves of the tsunami with a surfboard quickly made from a tree trunk.
I loved this story! With engaging characters and mythical creatures, Jess Black has written a fantasy series about problem solving from which we can all learn. I recommend this for readers 7 years – 100 years.
On the dedicated website you will find the series book list, author's biography, puzzles and teachers' notes.
Reviewed by Sharon Smith