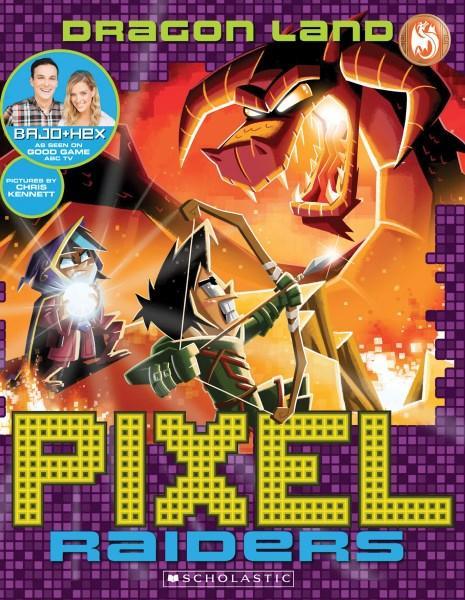 Steven O'Donnell (Bajo) and Stephanie Bendixsen (Hex) (text), Chris Kennett (illus). Dragon Land (Pixel Raiders #2). Scholastic Australia, Sept 2016, 192pp., $12.99 (pbk.), ISBN 9781760275662 
Looking for a book to entice kids from screen to page? Read on…
The Pixel Raiders series, created by ABC TV's Good Game video gaming reviewers Bajo and Hex, cleverly unites the screen-based world of video games with the text-based world of reading. Even on the printed page, the action is fast-paced and absorbing.
In book one of Pixel Raiders, Rip and Mei were catapulted from their regular lives into the world of a fantasy role-playing game. Happily, they survived Dig World, but their gaming success did not return them to their own world. Instead, they find themselves in Dragon Land – a place of magic and mages; knights and wizards; and, yes, powerful, angry dragons. Their new challenge is to discover the Etherstone.
Rip and Mei's quest takes them through dangerous swamps and forests, into the riotous Sillysong Inn, and finally to a dragon clan's lair in the Crystal Kingdom. Here, they restore harmony between two warring clans and claim the Etherstone as their reward. The precious jewel is actually another medallion – a sigil with great power, just like the one they retrieved in Dig World.
Bajo and Hex use gaming terminology throughout Dragon Land. Children who are familiar with animated role-playing games will feel right at home in this wordscape. (Those – like me – who haven't previously entered the gaming world, will soon come to grips with buffs, nerfs, leets and mana.) Throughout the book, Rip and Mei's game level and heart (strength) collection are displayed at the top of the page. The black and white illustrations by Chris Kennett, many full-page, drive the action and ramp up the emotional intensity of Rip and Mei's quest.
Dragon Land closes with the two questers adding their new medallion to the game's loading screen and receiving the message: 'Level Two: Dragon Land Complete! Entering Level Three!' Their medieval garb disappears and they enter a world of chequered flags and roaring engines. Fans of the series are in for a scorching ride in the third book, Speed Zone, due in April 2017.
Suitable for ages 8+
Reviewed by Tessa Wooldridge