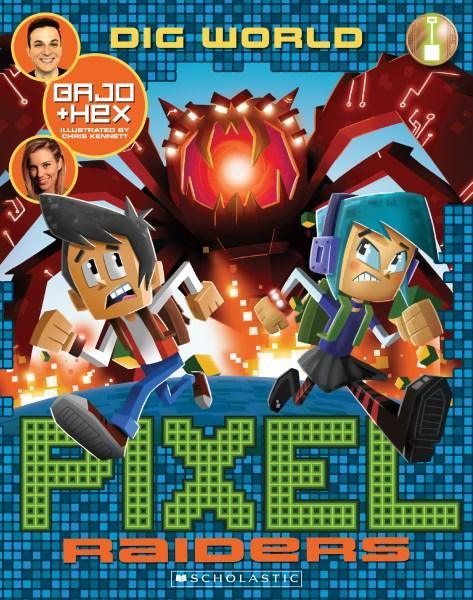 Bajo & Hex,  Dig World (Pixel Raiders #1),  Scholastic Australia,  May 2016,  192pp.,  $9.99 (pbk),  ISBN 9781760159252
Rip and Mei, the best gamers at school, turn from competitors to collaborators when they unwittingly become part of INREAL GAMES newest video game. They find themselves in a world that seems all to real with no obvious way of escaping. Can they find their way back to the real world or will they be trapped forever battling lava lizards and sombrero-wearing spiders?
Doesn't every gamer wonder what it would be like to actually be in the video game they are playing? Written by popular game reviewers Bajo & Hex, Dig World is an exciting adventure story for game loving kids aged eight years and over. Dropping two rivals right into the action, Rip and Mei learn how to work together, share their knowledge and use their own special skills to try to win the game. Combining gaming concepts like replenishing enerygy levels, collecting important medallions and figuring out the path to survival, with real world skills such as cooperation and problem solving, this unique book truly bridges the digital and analog world.
With short sections, gaming details (like tracking energy levels) and lots of illustrations throughout, Dig World is an enjoyable, easy read. Young gamers will appreciate the appropriate use of gaming terms and easily relate to the main characters as they succeed — and sometimes fail — in their attempts to win the game. It's a wonderful concept, bringing gamers a book that might just be as much fun to read as playing a video game.  I look forward to the next book in the series, Pixel Raiders #2.
Reviewed by Stephanie Ward