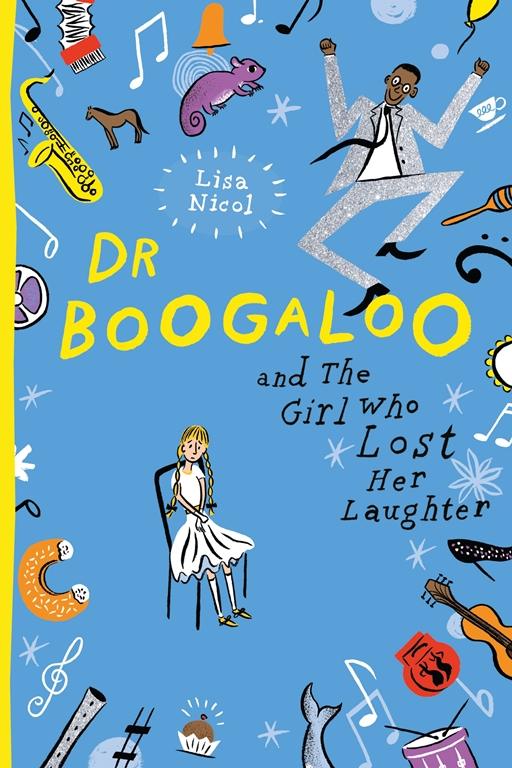 Lisa Nicol (text),  Daniel Gray-Barnett (illus.), Dr Boogaloo and The Girl Who Lost Her Laughter, Random House Australia, 2 Oct 2017, 192pp.,  $19.99 (hbk),  ISBN: 9780143782599
Have you ever suffered from Forever Forgetting To Wear Underpants Syndrome? Or caught a bad case of Can't Sit Down, Not Ever, Not Even At The Movies Syndrome? You should probably call for an appointment with Dr Boogaloo and his wife Bessie at the Boogaloo's family clinic. Dr Boogaloo can treat all kinds of misfortunes and maladies with his musical treatments, that is, until he meets Blue. Blue is a young girl who has completely, utterly and entirely lost her ability to laugh. Her mother has sent her to the clinic, to help her stop being such a sad-sack. But try as the doctor may, he cannot figure out how to help her get it back.
Lisa Nicol has created a world full of heartfelt, funny and thoughtful characters. Blue's desire for connection and friendship is, at times, heart-wrenching, but this is balanced by the wacky cast of musicians and experiences the clinic exposes her to. Nicol handles this balance deftly, allowing the reader to both marvel at the absurdities and want to hug Blue tightly when she's alone and scared.
Gray-Barnett's illustrations are bursting with musical energy and joy, cleverly matching the writing, without overpowering it. I especially loved the drawing of Blue dancing to the music against the background of the night sky.
Hand this book to readers who might need a lift or a laugh. They are certain to get both.
Reviewed by Madeleine Crofts