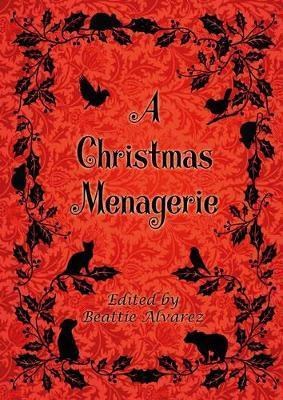 Beattie Alvarez (editor),  A Christmas Menagerie,  Christmas Press,  Oct 2017,  96pp.,  $24.99 (pbk),  ISBN: 9780994528049
A Christmas Menagerie is a compilation of Australian and Christmas themed short stories told from the perspectives of a variety of children and animals. From wombats to small girls in koala onesies, the book was a thoroughly enjoyable compilation and quite satisfactorily fulfilled its purpose as a Christmas-based book for me. Each story presented a small moral or physical issue for the main character, and all were resolved with the charm of a children's book- with the strength of friendships new and old, the ingenuity of the protagonist, or even with new takes on classic fairytale clichés.
Favorites for me included the final story, Gary's Most Splendid Christmas by Michael McGoldrick, Colin's Special Gift by A. P. Harper, and A Special Song for Christmas by Rachel Nightingale, however, each and every story holds its own unique appeal.
Possibly the best element of the compilation is its dexterity and flexibility. Stories like Clever Wombat and Barney Brown and the Christmas Cake present the typically repetitive nature of a perfect read-a-long book for younger children, complete with illustrations. Stories like Copycat, Colin's Special Gift and Pansy and the Christmas Tree are more suited to older readers- to read with adults or by themselves- with Copycat especially exhibiting some more subtle humour likely to pass over the heads of younger children. On the complete opposite end of the spectrum, the two fairtytale-retellings The Tablecloth and The Ancient Wren could be for either- with takes on the old-woman-disguised-as-a-witch, kindness-brings-kindness, and poor-and-generous vs. rich-and-greedy stereotypical plotlines, the moral conclusions in these two are highly discussion-worthy.
Overall, I thought that the compilation was wonderful as a book to be brought out and reminisced over every holiday season, with clever Australian links not often found in Christmas books. The variety of authors made each story fresh and new, and the differing lengths of the stories (two to seven pages long) only increased the flexibility of the book.
Perfectly suitable for read-a-longs with younger readers, or as solo reading for children up to 12.
Reviewed by Amy Cooper