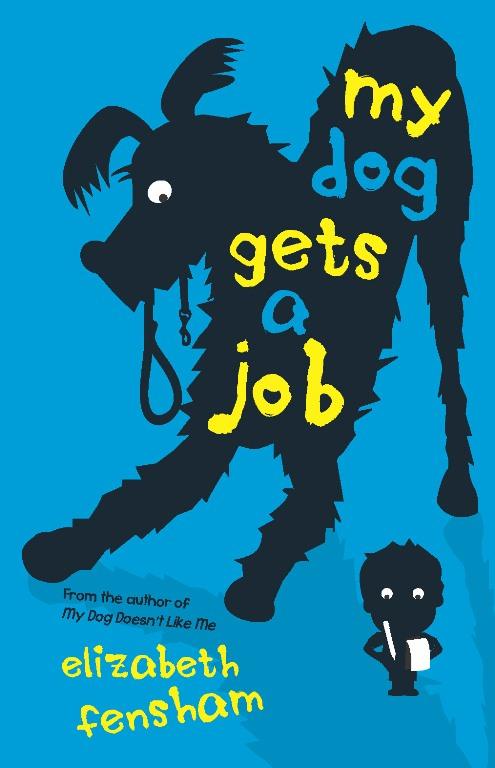 Elizabeth Fensham,  My Dog Gets a Job,  University of Queensland Press,  29 May 2017,  160pp.,  $14.95 (pbk),  ISBN: 9780702259593
The narrator of this story is Eric; a 9-and-a-lot (almost 10) year-old boy. Eric is having trouble with his large, boisterous dog, Ugly, who is always getting into mischief. When Eric's Dad threatens to tie Ugly up in the back yard, Eric seeks to find Ugly a job that will keep him occupied and out of trouble. With help from his classmates, Eric puts Ugly to work in a series of jobs, including dog trainer (a dog that trains other dogs), duck herder and lost dog finder. Sadly, all these ventures end up in much more work for Eric than Ugly! A happy resolution is found in the end, however, that utilises Ugly's natural talent as a companion animal.
In addition to having a well constructed story, short easy-to-read chapters and a great young voice, this book is fun, funny, and has valuable information skilfully woven into it. You'll find some top tips on how to care for dogs. Also, thanks to a character named Barnaby, who is a classmate on the autism spectrum, readers gain an insight into the kinds of behaviours commonly shown by an autistic child, and learn how others in the class can help to make the school environment more inclusive.
My Dog Gets a Job will be a winner with animal lovers and dog owners in particular, in the mid to upper primary levels. It is a relatable read for children with autism, or with autistic friends, and teachers may find it a useful resource for discussions on diversity, inclusion and empathy.
Teachers' Notes can be found on the University of Queensland Press website.
Reviewed by Julie Murphy