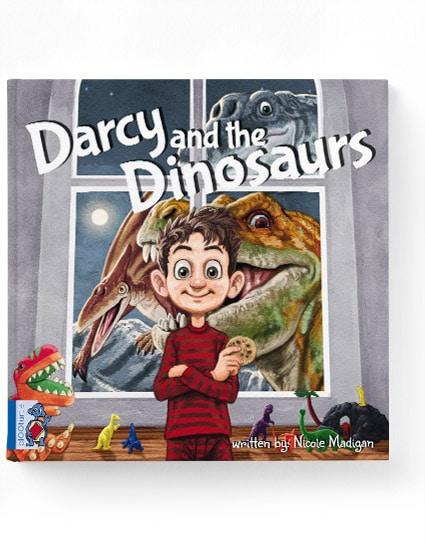 Nicole Madigan (text),  Joe M Ruiz (illus.),  Darcy and the Dinosaurs,  BlOOturtle,  May 2017,  28pp.,  $19.95 (hbk),  ISBN: 9780995410633
What child has not wished at some point in their life to go back in time to see the dinosaurs? This picture book by Nicole Madigan and Joe M. Ruiz is just the ticket for kids in their "dinosaur" phase.
Darcy is having trouble sleeping when he gets up to sneak a biscuit from the kitchen and hears a noise outside. On investigation, Darcy finds a time machine in the veggie patch. Soon he is whizzing back to the time of the dinosaurs, where he meets some famous favourites, including Brontosaurus, Pterodactyl and the fearsome Tyrannosaurus Rex. How will he escape the T. Rex? Let's just say it's lucky that Darcy still has that pilfered biscuit in his hand!
The higher than average word count for a picture book and older protagonist (he looks around 8) suggest that this book may best suit young independent readers who still enjoy large, colourful illustrations. The fun adventure would also suit younger children with a good attention span, in a read-aloud story-time setting.
My only niggle was the commonly used was it a dream? ending, but fresh young readers may not be bothered by it at all.
Reviewed by Julie Murphy