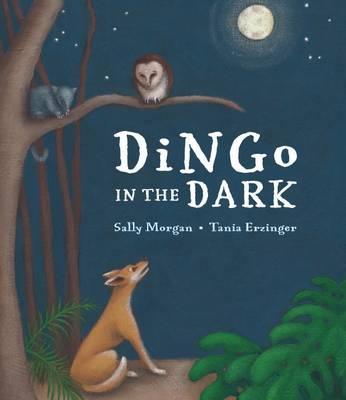 Sally Morgan (text),  Tania Erzinger (illus.),  Dingo in the Dark,  Omnibus Books/Scholastic Australia,  1 Oct 2016,  32pp.,  $19.99 (hbk), ISBN 97811742990972
Omnibus follow up from Magpie Learns a Lesson and Feast for Wombat with another tale by well known indigenous author, Sally Morgan and illustrator Tania Erzinger. Together they answer common childhood worries using an animal's experience and clear and timeless explanation, reminding me of the classic Aesop's fables.
A young dingo's fear of the dark is stopping him from sleeping at night. Consequently he is too tired to interact with his friends and becomes a loner. Many children of the target age will identify with these feelings and discussion can grow from his brave curiosity in search of a solution.
Naively painted in dark acrylic tones with textured brush strokes, the uncluttered pages carry a straightforward message which concentrates on the characters' shapes against each background, unencumbered by detail. By contrast the warm calming moonlight and the softly depicted owl and possum offer dingo's much sought after reassurance.  Suitable for 4 to 9 year olds.
Reviewed by Liz Anelli