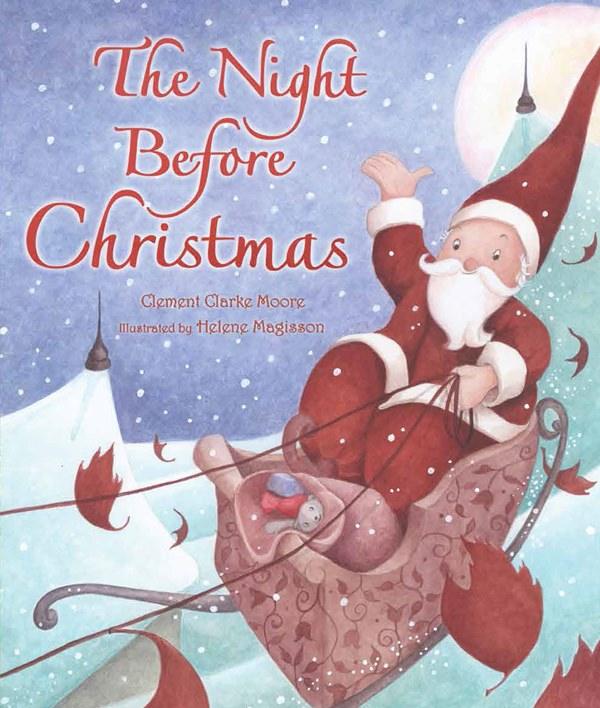 Clement Clarke Moore (text) Helene Magisson (illus.) The Night Before Christmas,  New Frontier,  1 Nov 2016,  32pp., $24.99 (hbk), ISBN 9781925059700
There have been many, many editions of the famous poem, "A visit from St Nicholas", also called "'Twas the night before Christmas". This one is illustrated by French-Australian artist Helene Magisson.
The familiar verses are arranged in four lines on each double-page spread accompanied by paintings, also one per page. While red predominates, it is in muted tones rather than the bright scarlet red usually associated with Christmas. Blues also feature in the nightscapes, especially on the endpapers.
St Nick and assorted toys are in shapes reminiscent of Scandinavian wooden toys with pointed hats and round bellies, while the humans and animals are more realistic.
There are some discrepancies between the text and the pictures. For example, the verse says that 'the children were nestled all snug in their beds' (plural) where the illustration shows five children in one large bed. The narrator also describes seeing St Nick as the only observer where the first sighting shown has two people peeping out the window.  These minor differences may not bother many parents reading this much-loved poem but are worth noting.
This is an attractive book and may be worth considering if this poem is a required acquisition for home or school.
Reviewed by Lynne Babbage