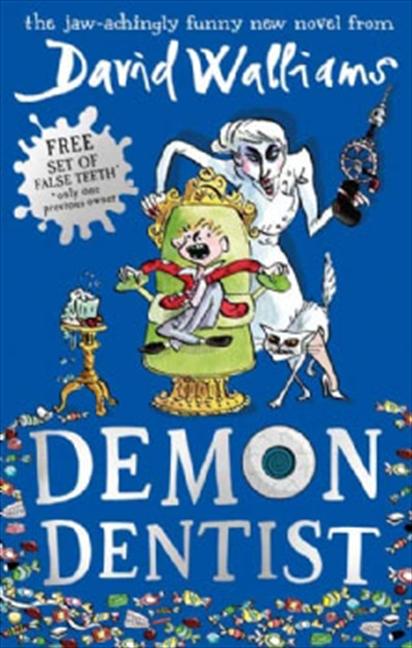 WALLIAMS, David (text) Tony Ross (illus.) Demon Dentist HarperCollins, 2013 434pp $19.99 pbk ISBN 9780007453573 SCIS 1629996
This deliciously wicked book is written by UK comic David Walliams.  David and the illustrator have created a book reminiscent of the collaboration between Roald Dahl and Quentin Blake.  If you don't like reading about the gross and disgusting then this book is not for you.
Alfie is a young boy who spends his time after school looking after his Dad who is wheelchair bound.  When reminder notices come from his dentist, Alfie hides them so his father isn't reminded that Alfie is years overdue for a check-up.  But what happens when you don't look after your teeth, eat lots of sugar and never go to the dentist?  Unfortunately for Alfie, the new town dentist makes a special visit to the school and notices Alfie's teeth.  What happens next is not for the faint-hearted.  When the town's children start losing their teeth the tooth fairy is not leaving money under their pillows.  Is the new dentist behind it?  What does she want with all these teeth?  Can Alfie and the new girl Gabz work out what is happening and will they be able to convince the adults!
This book is full of made up words and great for more confident readers who have a strong stomach and love reading about body functions and body parts.  KP