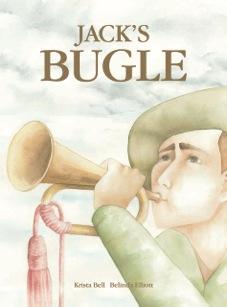 BELL, Krista (text) Belinda Elliott (illus.) Jack's Bugle Windy Hollow, 2014 unpaged $25.95 ISBN 9781922081292 SCIS 1652236
A moving story of the 1914-1918 war and especially the landing at Gallipoli by Australian troops.  Central to events is the friendship forged between Aidan Jackson, known as Jack, and Spencer Harrington, Harry.  Despite Jack being a farm boy and Harry a city bloke, they became best friends throughout early training, shipping out and desert training in sandy Egypt.  And everywhere Jack went, so did his precious bugle, playing both on and off the field but kept safely by his side until Gallipoli changed everything.  Later events remind us of the trauma war brought to many, especially survivors, and of untold stories and mementoes whose origins became lost.  But also how some op shops can hold treasures from the past with unknown links to following generations – a moving finale for the interested reader.
Despite the picture book format and soft, almost gentle illustations, the text is both moving and fairly extensive, making it a book to read to a young audience but for independent readers of 9 plus years.